"Need to Know" Lyrics: Meaning Behind the Macklemore Track Featuring Chance the Rapper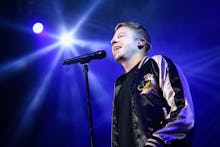 John Salangsang/AP
On Friday, Grammy-winning hip-hop pair Macklemore and Ryan Lewis dropped their second LP called This Unruly Mess I've Made as a followup to 2012's The Heist. The eighth track out of the album's 13 is titled "Need to Know" and features Chance the Rapper. 
The piano-driven song is an existential chronicling of Macklemore and possibly Chance the Rapper's rise to fame and then entrance into fatherhood. In the beginning, Macklemore criticizes capitalism and society's obsession with social media, consumer products and drugs. Then in all seriousness, Chance the Rapper and Macklemore tie in their daughters and being a father. 
Read more: 'This Unruly Mess I've Made:' Download and Stream Macklemore and Ryan Lewis' New Album
"Need to Know" Lyrics: The first verse, according to Genius, goes:
And got some bars and got some syrup/ And got some Jordan's on my feet, I went and matched them with my shirt/ And I just Instagrammed them both to show you that I got them first/ Got a Louis duffel bag, I got my girl a purse/ I'm tryna find God through a purchase, I'm not tryna go to church/ Amen, Satan, told me not to serve, I only think about myself, I only think about my work
Without his usual voice inflation, Chance the Rapper joins Macklemore for the chorus, according to Genius: 
I cry when she smile with her eyes closed/ I'm already afraid of tight clothes/ I want all her best friends to be white folks/ I scratched out this line so many times, I can't forget it/ It's fucked up, I almost say it every time that I edit/ I swear rapping make it easy to lie/ But secrets don't make it easy to write
Chance the Rapper also sang on Kanye West's recently released The Life of Pablo, in which he raps about his own childhood, his daughter and God. 
This Unruly Mess I've Made is available for streaming and downloading on Spotify and iTunes.