Rent-A-Minority Is Here to Solve All Your #OfficeSoWhite Dilemmas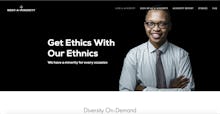 Does your workplace boast the diversity of the state of New Hampshire? Got some board members coming in and need to look a little less white? One woman's progressive new initiative has got you covered.
It's called Rent-A-Minority, and according to the website, it's the preemptive answer to a public relations nightmare:
"Rent-A-Minority is a revolutionary new service designed for those 'oh, shit' moments where you've realized your award show, corporate brochure, conference panel is entirely composed of white men. For, like, the fifth year in a row.
"Suddenly you're being called out on Twitter and you need to look not-racist and not-misogynist fast," it continues. "Actually doing something meaningful to disrupt institutional inequality would be way too much work; so why not just Rent-A-Minority instead?"
And the mastermind behind this satirical site? None other than the consummate minority — gay, brown and female — Arwa Mahdawi, who says she came up with it at New York City's Stupid Ideas Hackathon.
"I didn't really have a strategy around what I was doing, to be honest," she said. "I thought it was funny, I thought my friends might think it was funny, I thought maybe it would get a few views, but I definitely didn't expect it to get so much attention."
Earlier this month, Digiday caught wind of Rent-A-Minority and Mahdawi asked Anil Dash to tweet about it to his more than half a million followers, which he did. The next week Mahdawi wrote about the satire site in the Guardian. And that was enough to turn Rent-A-Minority into a global phenomenon.
Mahdawi says she has actually fielded inquiries both from minorities seeking employment and companies seeking pseudo-diversity.
But Mahdawi couldn't have expected this: She says she has actually fielded inquiries both from minorities seeking employment and companies seeking pseudo-diversity.
Which explains why, aside from having a laugh, Mahdawi earnestly wants to change society's approach to diversity — a word she says she doesn't even like.
"I really hate the word 'diversity' because I really don't think of myself as 'diverse,' you know," she said. "'Diversity' means there's, like, a nucleus of normal and that there's a certain type of person who's normal and everyone else is different. And that's just so stupid."
And for Rent-A-Minority's self-described "founder, chairwoman, president, emperor, and chief minority officer," one of the most harmful problems with the current approaches to diversity is tokenism, which emphasizes diversity based on reputation and not principle. 
The utmost priority for any company looking to promote diversity, Mahdawi says, is closing the socioeconomic gap between races.
"I don't think any company should pat itself on the back about having a diversity scheme and yet they're paying their lowest paid people a wage they can't live on — and they tend to be non-white — that means their kids can't go to university; it's a vicious circle," she noted. 
Mahdawi has since incorporated a "Stories" section, where minorities can submit their quintessential "minority moments," adding depth and context to a project largely meant to make people laugh.
Like this one from an Asian-American:
I was at a [professional development] session on diversity with about 60 other people. We were discussing a racially insensitive post that an Asian-American made on social media. The facilitator stopped for questions and called on the one other Asian woman in the room but called her by my name.
And this one, from an amputee:
Though not one of those smiling people in wheelchairs, I find that my disability makes me an object that inspires others for all the presumed adversity I've faced, even though I'm a middle-class straight white cis person with good health insurance who hasn't really faced much adversity. Just being places inspires people — I'm not clear what I'm inspiring them to do.
And this:
I'm a woman in construction. I'm a white woman, so you can fill your quota without stepping too far outside your comfort zone.
Amongst the flood of emails Mahdawi received was a note from someone who said sharing the site at work actually facilitated a more meaningful conversation with their manager. 
"I thought [it] was great," Mahdawi said. "I never expected to make even a small difference, so if I have, it's worth it."