'This Unruly Mess I've Made' Reviews: Critics Divided Over Macklemore and Ryan Lewis Album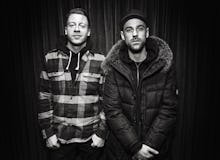 Cindy Ord/Getty Images
Ben "Macklemore" Haggerty and his long-time collaborator Ryan Lewis released their sophomore studio album on Friday, This Unruly Mess I've Made, which follows the recording duo's debut LP, 2012's The Heist. In the hours after its release, the long-awaited LP pulled in mixed reviews — some of which were none too complimentary of the Seattle-based band's latest.
"1.5 years went into this project," wrote Haggerty in a statement on Friday. "So many ups and downs. Breakthroughs and obstacles. Conversations, debates, questions. At times I thought it would never see the light of day. But it's here."
Read more: Macklemore and Ryan Lewis Announce 2016 Album Release, 'This Unruly Mess I've Made'
The reviews are in: Early ratings from Metacritic suggest the LP's reception may not be wholly positive. The record scores a 61 our of a possible 100, though Metacritic's user score rates the album slightly higher, at a 6.7 out of 10. Meanwhile, Pitchfork awarded the record a sub-par 5.1 out of ten rating. 
"Like Macklemore, This Unruly Mess I've Made is nowhere near as bad as its detractors would like it to be," wrote Pitchfork's Jeremy Gordon. "It's an occasionally inspiring, often corny rap album made for winning Grammy nominations and waking the hearts of the unwoken. The sum of this is sometimes appealing, though frustrating, if only because you'd like to imagine a world where Macklemore was not counted on to inject a dose of political consciousness into our daily proceedings."
The Guardian's Rachel Aroesti admits that the album is catchy, but not in a welcomed way — "writhing earworms" is how she'd describe the collection of tracks. 
Similarly, though Rolling Stone critic Jon Dolan called the album "a heartfelt followup," he points out that the new LP lacks the underdog magic that seemed to surround the group's first album. Yet perhaps making a pop chart-toping record was never the aim with Thus Unruly Mess I've Made.
"With the exception of the exuberant 'Downtown,' coming up with 'Thrift Shop'-style catchiness is rarely the goal here," Dolan writes. "Macklemore would rather see himself in the tradition of old-school edutainers like KRS-One (who appears on 'Buckshot')."
The bad news for Haggerty is that, despite his best efforts to reclaim the sense of hype his work inspired in 2012, early reviews suggest he may have fallen short. And the artist was all but desperate to do exactly the opposite. 
In working toward this release, Haggerty struggled with intense anxiety, fear of imperfection and what he felt was mounting pressure to deliver. And the neurosis sent him running. 
"I had to figure out how to use my voice again," the artist wrote in a statement. "So, we went ghost. What I couldn't find in a hotel room, on the road or in Seattle, I found in the middle of nowhere. No reception. Making music not because we had to, but because we got to. I had forgotten how to do that. Not being afraid of the platform we were standing on. Not creating from a place of 'don't fuck up' but creating from a place of 'fuck it up.'"
Yet despite its critics, This Unruly Mess I've Made isn't exactly a train wreck. At its best, Macklemore and Ryan Lewis prove that they're musical chameleons. Think back for instance to The Heist's "Starting Over," which featured Band of Horses' Ben Birdwell. That track proved the band's ability to absorb the essence of a different group's aura, and to use an outsider aesthetic to both elevate and enrich its own sound — creating something entirely new in the process.
And the band's done it again with "Kevin," a standout, soulful cut that features up-and-coming retro revivalist and Grammy nominee Leon Bridges. 
Hate him or love him, the chorus Haggerty's really singing with This Unruly Mess I've Made is a long chase with authenticity. After releasing the single "White Privlidge II," which is the album's closing track, some accused the artists of using complex race relations to fuel their fame. Others, however, commended the group for sparking a dialogue.
Yet despite all the chatter, Macklemore doesn't seem to care if you — or critics — doubt him.
"I just want to say thank you," Haggerty wrote in his statement on Friday. "To the fans that have ridden with us. Through everything. From an underground rap group, to pop stars to... Whatever we are now." 
He continued: 
They'll always try to put boxes around art. Label. Good/bad. Compare/contrast. Make sense of it through their lens. But at the end of the day, I just care about the people. The ones that got us this far. I hope you resonate with it. That something grabs you. Makes you think. Question... That's what music is for. I'm truly proud of what we made.
Macklemore and Ryan Lewis are hitting the road for an exhaustive overseas tour, which begins with a March 8 show in Luxemburg. The band will continue with shows in numerous European countries — Germany, Poland, France, Italy and Spain  to name a few — before returning to the states to perform at Bonnaroo Music Festival in June. Here's a full list of tour dates and concert ticket purchase options.  
This Unruly Mess I've Made track list:
1. "Light Tunnels" (feat. Mike Slap)
2. "Downtown" (feat. Melle Mel, Grandmaster Caz, Kool Moe Dee & Eric Nally)
3. "Brad Pitt's Cousin" (feat. XP)
4. "Buckshot" (feat. KRS-One & DJ Premier)
5. "Growing Up" (feat. Ed Sheeran)
6. "Kevin" (feat. Leon Bridges)
7. "St. Ides"
8. "Need to Know" (feat. Chance the Rapper)
9. "Dance Off" (feat. Idris Elba & Anderson .Paak)
10. "Let's Eat" (feat. XP)
11. "Bolo Tie" (feat. YG)
12. "The Train" (feat. Carla Morrison)
13. "White Privilege II" (feat. Jamila Woods)