"Kevin" Lyrics: Macklemore & Ryan Lewis Song Featuring Leon Bridges Tackles Addiction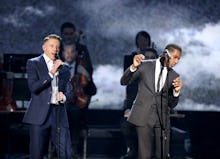 Matt Sayles/AP
On Friday, Macklemore and Ryan Lewis released their 13-track sophomore album This Unruly Mess I've Made, a followup to their 2012 debut, The Heist. Featuring soul singer Leon Bridges, "Kevin" is the sixth track on the album. "Kevin" opens with a funky beat and builds towards a gospel-inspired crescendo that addresses the serious topic of prescription drug addiction. 
The song is a tribute to Macklemore's old friend Kevin, an aspiring rapper who overdosed on prescription pills, according to MTV. The topic is near and dear to Macklemore, as he himself is a recovering addict, Us Magazine reported. "If I don't share Kevin's story, if I don't participate in a community of sobriety, I could very easily wake up — not wake up, like Kevin," he said.
Read more: 'This Unruly Mess I've Made:' Download and Stream Macklemore and Ryan Lewis' New Album
Lyrics: In the song, Macklemore raps about working with Kevin in the studio and later finding out that Kevin had overdosed, according to lyrics from Genius. 
I said peace at 5:30, the next time that I saw him was in the hands of the pallbearer/ What if I would've never gone and dropped him off there?/ Blaming myself, in hysterics, screaming "It's not fair!"/ 21 years old with a book of rhymes he was gonna recite to the globe/ Only thing to numb the pain besides that shit in his nose 
Bridges sings the song's hook, in which he calls out the American Dream:
Doctor, please, give me a dose of the American Dream/ Put down the pen and look in my eyes/ We're in the waiting room and something ain't right/ All this is on you, we're overprescribed
Bridges, Macklemore and Ryan Lewis debuted the heart-wrenching tribute during the American Music Awards in November, according to MTV. 
This Unruly Mess I've Made is available on iTunes and Spotify. "Always a surreal feeling to put your art out into the universe," Macklemore wrote in a statement on his website on Friday. "I feel such a mixture of emotions right now. One-and-a-half years went into this project. So many ups and downs. Breakthroughs and obstacles. Conversations, debates, questions. At times, I thought it would never see the light of day. But it's here."