Kesha Releases New Song Clip to Thank Supporters Amid Battle With Producer Dr. Luke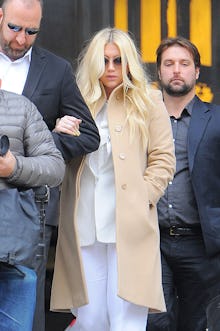 Josiah Kamau/Getty Images
Singer Kesha has been fighting to be released from her six-year-long recording contract with producer Lukasz Sebastian "Dr. Luke" Gottwald, who allegedly raped the singer. After a judge denied her injunction last week, resulting in an outpouring of support for Kesha, she thanked her fans with an emotional clip from a new song on Friday.
Read more: The Internet's Response to Kesha's Abuse Allegations Is Everything Wrong With Rape Culture
Kesha's lawyer, Mark Geragos, tweeted out a short video of Kesha singing, along with the message, "A special thanks to everyone who has had her back #animals."
In the clip, Kesha sings, "Oh, I don't know what I would do without you/ Oh no, I don't know where I would be."
Since New York Supreme Court Justice Shirley Kornreich denied Kesha's injunction last week, countless fans and fellow musicians have voiced their support for Kesha, including Ariana Grande, Lorde and Lady Gaga.