Kim Kardashian, Kanye West Divorce Rumors Swirl After Rapper's Apparent Meltdown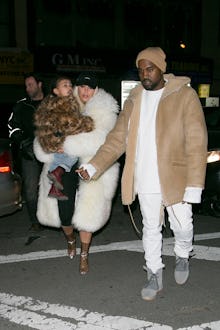 Marc Piasecki/Getty Images
Once again, rumors are swirling that America's most high-profile celebrity couples may be on the rocks. Reality TV-star Kim Kardashian West and rapper Kanye West have been a couple since 2012, and married in Italy in 2014. They have two children together, daughter North West and son Saint West.
Read: These 12 Famous Black Women Wore Cornrows Before Kim Kardashian West
Kimye's relationship has always been the subject of plenty of gossip and speculation, but after a series of high-profile Twitter meltdowns and the painfully long and convoluted roll-out of Kanye's new album The Life of Pablo, West's erratic behavior has gossip mags speculating that the two are on the path to splitsville.
So far though, there doesn't seem to be anything amiss in the Kardashian-West home. Speaking about her home life to Glamour last June, Kardashian West said, "North has taught me patience. There's nothing I wouldn't do for her. And nothing I wouldn't do for my husband. She's empowered us to want to be the best parents and the best spouses."