Philip Chism, Mass. Teen Who Killed Teacher, Sentenced to Life in Prison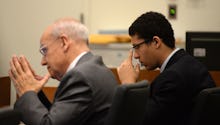 Paul Bilodeau/AP
In October 2013, mathematics teacher Colleen Ritzer was brutally raped and killed in the bathroom of Massachusetts' Danvers High School. On Friday, CBS News reported that Ritzer's former student Philip Chism was sentenced to life in prison for her murder. Chism, who was 14 at the time of Ritzer's death, will be eligible for parole after serving 25 years behind bars. 
Read more: This Daniel Holtzclaw Profile Is a Lesson in How Not to Write About a Rapist
What happened to Ritzer in 2013 was about as gruesome as it gets. According to the Boston Globe, Chism followed the 24-year-old teacher into a second-floor ladies bathroom after classes ended. Chism strangled, stabbed and raped his victim, according to the Globe, before removing her body to nearby woods and violating her with a tree branch. 
According to a written statement from Essex Superior Court Judge David Lowy, Chism didn't appear to show signs of remorse. "After she insulted me, that's when I became the teacher," Lowy quotes Chism as saying, according to CBS.
Lowy sentenced the now-17-year-old to the maximum time in jail that a juvenile charged with first-degree murder can face. The sentencing could mean that Chism has a chance of freedom after 25 years of incarceration. 
Speaking at a press conference after the sentence was announced, the victim's family was unsatisfied.
"Today's sentence is unacceptable," said the victim's mother, Peggie Ritzer's, according to the Boston Globe.
"Words can't express the amount of pain and sorrow these past two and a half years have been," Diana Chism, the defendant's mother, said in a written statement, according to the Globe. "However, there is no one who has suffered more than the Ritzer family. My utmost esteem, prayers and humble respect is with them today as they continue their journey to heal."