"Brad Pitt's Cousin:" Lyrics to Macklemore's Fun Anthem for 2016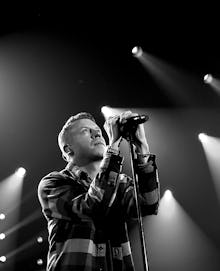 Kevin Winter/Getty Images
The second studio album for Grammy-winning hip-hop duo Macklemore and Ryan Lewis titled This Unruly Mess I've Made dropped on Friday for streaming and downloading on Spotify and iTunes. The third song off the album is called "Brad Pitt's Cousin," and is a fast-rapped head nodder of a track. Fellow Washington rapper Xperience joins Macklemore on the track.   
The song is one of the album's more fun, less serious anthems, as the others tackle fatherhood, white privilege and pill addiction.
Read more: "Kevin" Lyrics: Macklemore & Ryan Lewis Song Featuring Leon Bridges Tackles Addiction
Lyrics: In the song, Macklemore raps about looking like Brad Pitt's uglier cousin and asking for his Angelinas. The catchy pop culture-inspired song will surely find itself on the playlists of 2016, thanks to a hook that sings, "When you see me in the club/ Brad Pitt, that's my cousin/ Angelina show me love," according to lyrics from Genius. 
In the song, Macklemore raps about all the good stuff in life: chicken wings, that good ole Cadillac (throwback to "White Walls"?) and herbal tea, obviously. 
I'm weaving in and out of traffic/ In the Cadillac, oh wait, is that us on the radio?/ Wait, is that us on the radio?/ It's what I always dreamed of/ Back when I had peach fuzz/ Shoutout to the homie D/ Who's D? Deez nuts/ I'm eating chicken wings and onions rings/ If you're wondering, yes, I does my thing/ And another thing, no puppet strings/ On the company, we sucker free
Still, "That said, it isn't always easy to tell when Macklemore is trying to be fun, or when we are having fun at his expense," Pitchfork wrote in its review of the album.