The Scariest Millennial HIV Number Isn't How Many People Have It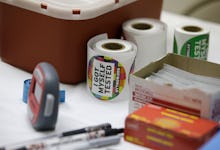 Along with getting a physical or going to the dentist, an HIV test is an annual part of good health care. However, according to a new study published in Pediatrics, only about 33% of young adults aged 18-24 have ever been tested for the virus. Though the Centers for Disease Control and Prevention recommends HIV testing for anyone over the age of 13, only about 25% of teens reported undergoing an HIV test. 
Broken down by race and gender, the number of young people tested varies wildly. The groups with the highest rates among young adults were black men (45.3%) and black women (59.9%), as well as Latina women (46.5%). White male young adults were the least likely to be tested, with a 22.8% testing rate. 
These numbers are much lower than the national average. According to the Kaiser Family Foundation, 54% of adults 18-64 have received an HIV test. The No. 1 reason not to be tested? Fifty-seven percent of people said they didn't see themselves as being at risk for HIV. 
Current guidelines from the Centers for Disease Control and Prevention suggest a health care professional offer an HIV test to any patient between the ages of 13 and 64. Some states, like New York, have even stricter HIV testing laws that require health care professionals to offer an HIV test to every patient in every setting. 
According to the CDC, 26% of all new HIV infections occur in people ages 13 to 24, especially young gay and bisexual men. Over 50% of youth who have HIV don't know it yet. Why is this so important? People who are not diagnosed are not in treatment for their HIV — and can infect others. A recent study showed that 91% of all HIV infections in the US come from people who have HIV but don't know it yet. 
A recent CDC study showed that if current HIV trends persist, as many as half of gay black men and a quarter of Latino gay men will become HIV positive. While testing may be at a low, its importance is higher than ever. 
You can use AIDS.gov's HIV testing locator to find out where to get an HIV test near you.