JJ Abrams Wants 'Star Wars' to Have Gay Characters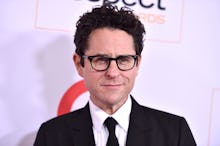 Ross and Rachel. Jack and Rose. Sam and Diane. There are just some great couples throughout film and TV history that inspire us to believe in love. And for many people, the latest couple that gives us all a little bit of hope is Poe and Finn, two of the main characters in the latest Star Wars film, Star Wars: The Force Awakens. 
According to the Daily Beast, J.J. Abrams, who directed Star Wars: The Force Awakens and will executive produce the second film in the planned trilogy, responded "Of course!" when asked whether gay characters will one day inhabit a galaxy far, far away.  
He continued, "When I talk about inclusivity it's not excluding gay characters. It's about inclusivity. So of course." 
Basically, Abrams said that in the many galaxies that Star Wars inhabits, there's zero chance LGBTQ people do not make up some of its inhabitants. However, no out LGBTQ characters have been featured in the Star Wars narratives — but he would love to see that change. 
"I would love it," he said. "To me, the fun of Star Wars is the glory of possibility. So it seems insanely narrow-minded and counterintuitive to say that there wouldn't be a homosexual character in that world."
Given that he is not directing or writing the script for the next film (both tasks have been undertaken by Rian Johnson), it's not certain how much sway he will have. Though, since he is J.J. Abrams, his word may still mean a lot. 
While there have been no out LGBTQ characters, imaginations ran wild when sparks flew between main characters Poe Dameron and Finn in The Force Awakens. 
This news probably has most doing a double take like this: 
This is the internet's current No. 1 reigning couple, after all. 
Heck, people of all genders feel the Poe and Finn burn. 
This latest news from Abrams follows some mixed signals as to the future of the galaxy's favorite couple. Oscar Isaac, who portrays Dameron, has been gung-ho about a romance between the two, but John Boyega said he believes the romance is all in Isaac's head. 
Let's just ask pilot Poe Dameron himself. Hey, Poe, what do you think of Abrams new attitude towards gay characters in Star Wars? 
There you go, folks. From the mouths of babes.