Police Investigating "Execution-Style" Murder of 3 Muslims in Indiana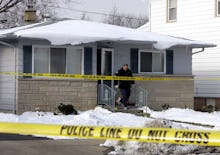 Three young Muslim men were found shot to death in Fort Wayne, Indiana, this week in an "execution-style" slaying, reported WANE-TV.
Authorities say they found the bodies of Fort Wayne residents Mohamedtaha Omar, 23, Adam K. Mekki, 20, and Muhannad A. Tairab, 17, inside a local home on Wednesday. Whoever killed them shot each man multiple times.
NBC affiliate 21Alive further reported the home had become a known spot where young members of the local African diaspora gathered to party due to an "absentee ownership situation," though WANE wrote police do not believe the hangout spot is connected to gangs or crime.
Police currently do not believe the three deaths were related to the men's nationality or religion, according to the News-Sentinel, but each was a Sunni Muslim from Chad or Sudan.
But amid a growing wave of anti-Muslim sentiment in the U.S., including numerous acts of violence directed against Muslim Americans, that the slayings were a hate crime remains a disquieting possibility.
In February 2015, a man named Craig Stephen Hicks was arrested for the alleged murder of three Muslim students at the University of North Carolina's Chapel Hill campus. One of the victim's families later launched an educational campaign to promote equitable treatment of Muslims in the U.S.
In the months following an Islamic State of Iraq and Syria terrorist attack in Paris in November 2015, numerous reports of violence and intimidation directed against Muslims sprung up across the U.S. They ranged from shots fired at the home of Amir Elmasri in Orange County, Florida, to a xenophobic meltdown at a planning meeting in Spotsylvania, Virginia, over a proposed mosque extension.
On Twitter, several people noted the violence was greeted with little coverage by the national media — yet another sign Muslim-Americans in the U.S. often have few allies in their corner when confronted with bigotry.
"Never in my wildest dreams would have thought that something this harsh could have happened to sweet kids," Valerie Handschu, a worker at the Salvation Army Youth Center, told WANE. "[Mekki] was just full of joy and energy and always had a smile on his face ... [Omar] could make anybody laugh. I think he just got along with everybody in that way and could find a connection with any type of person."
h/t WANE-TV