Muslims Not Very Happy With Chris Christie's Donald Trump Endorsement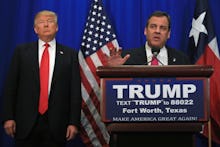 Muslims in New Jersey, who once counted on Gov. Chris Christie to defend them against Islamophobic rhetoric, feel betrayed by his endorsement of Republican presidential frontrunner Donald Trump.
Christie said Friday that he supported Trump's "strong leadership." It was praise seemingly a world away from the governor's earlier conduct on the campaign trail, when he labeled Trump's plan to completely deny all Muslim entry to the U.S. "a ridiculous position and one that won't even be productive." While campaigning, Christie spoke of the need to include Muslims as equals in U.S. public life.
In an interview with the Record, Salaheddin Mustafa, outreach coordinator for the Islamic Center of Passaic County, said Christie's endorsement was "disgraceful."
"Basically, thank you for enabling a person that we believe has put our own children at risk with the rhetoric he's using," Mustafa added. "It's putting our women at risk. Now we've got our own governor enabling that instead of condemning it ... We come at this with much more resolve than fear. We know our state is better than what our governor is unfortunately representing."
James Sues, executive director of New Jersey's branch of the Council on American-Islamic Relations, told Politico New Jersey Christie "is an opportunist and he is willing to suspend his possible distaste for whatever Donald Trump may have said in the past to increase his chances of becoming vice president."
"What's troubling is when Christie says Mr. Trump will provide 'strong and unequivocal leadership,' because Trump has made consistent, demeaning statements about minority groups," American Muslim Union co-counsel Khalid Bashjawish also told Politico.
In exchange for the endorsement — and helping Trump deflect criticism from a chorus of naysayers in his own party — Christie is widely rumored to have made himself a top candidate for a future role in a hypothetical Trump administration. Trump's lead in the polls shows no signs of fading, according to an average of polls kept by Real Clear Politics, and he currently holds a double-digit lead over his competitors with 33.2% support.
In one poll taken after the most recent Republican debate, Trump dominated his closest competitor, Florida Sen. Marco Rubio, by a staggering 18%.