Gina Rodriguez's Emotional 'Variety' Speech Sets a Powerful New Standard for Hollywood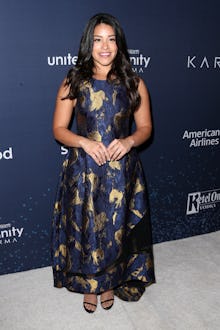 She's quickly becoming one of Hollywood's rising stars and with this speech, it's easy to see why. 
At Variety's unite4:humanity benefit, Rodriguez received the young humanitarian award, and her acceptance speech brought some of the audience to tears. 
"I can't lie, among the many emotions of pride and honor and appreciation for this award, I also can't help but feel like I shouldn't be accepting this award alone," Rodriguez said. 
Rodriguez went onto describe her life growing up in "the hood" of Chicago with hard-working parents. Rodriguez spoke about how much they helped their three daughters, as well as everyone else in the neighborhood. Her father helped workers in their union fight for more rights and her mother cooked for everyone in the neighborhood. On weekends, their parents gathered neighborhood children to paint over graffiti and clean up the neighborhood streets. 
"[My parents] taught me that being good was a standard that doesn't need praise or recognition," she said, fighting back tears. "That the more you help others succeed, you too will succeed." 
She continued, "This isn't an award I worked towards, unlike acting on Jane the Virgin. You know, like, this is me. This is my heart." 
And then, she finally painted a vision of what Hollywood could look like if everyone cared more:
I love what-ifs. What if I book a show? What if I win a Golden Globe? Or what if we lived in a world where booking a show and getting a Golden Globe was just an excuse to do good for others? Confession — that's the world I'm trying to create. A place where Oscar winners eradicate homelessness. A place where Grammy winners help provide and contribute to curing cancer. A place where we all leverage our social currency to do something that truly matters. Adopt children that need homes, finance tuition for kids that don't have the money to go to college, the list goes on. It's a world where the true award is giving. 
Rodriguez won her Golden Globe and shot to stardom as the titular character in Jane the Virgin in 2015, but has already fought hard to make strides for many in Hollywood. As a response to the #OscarsSoWhite controversy, she started #MovementMondays to highlight Latino actors and actresses who deserve praise. 
Rodriguez ended the speech by saying that the award is really for her parents. "They've never been recognized for all the good they do," she said. "They taught me to share this with the world. Good is the food that I give my heart and I thank you mom and dad for teaching me that." 
This isn't the first time Rodriguez has used a public platform to speak about the influence of her parents. She spoke about her father's encouragement from a young age when she won her Golden Globe in January 2015. 
"Thank you to my mom and dad for telling me to dream and to never stop dreaming," she said. "My father used to tell me to say every morning, 'Today's going to be a great day, I can and I will.' Well, Dad, today's a great day. I can and I did."