What Melania Trump's intimidating, glamorous style could mean in the White House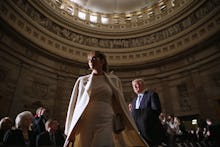 On the night before Super Tuesday, when 11 critical states would cast their votes for the Republican presidential nominee they liked best, Melania Trump, Donald's wife, appeared on CNN.
In an interview with Anderson Cooper — in which she discussed how she doesn't like her husband using vulgarities on the campaign trail, among other things — she wore a figure-flattering, knee-length white dress with exaggerated cap sleeves. She accessorized with bright pink heels and a large, gold chain-link bracelet. Her hair was perfectly blown-out, with cascading waves; her makeup was prominent, but flattering.
The look was quintessentially Melania.
A little more than 24 hours later, Donald Trump would find himself closer than ever to securing the Republican presidential nomination after resounding victories in seven states on Super Tuesday — and Americans could realistically start contemplating what it would be like to see the stylish, glamorous, enigmatic Melania Trump as first lady.
What is "quintessentially Melania"? Whether she cares about fashion or not, a first lady (or, theoretically, a "first gentleman") is often more seen than heard, given their supporting role in the presidency. Thus, fairly or unfairly, a first lady's clothes can speak volumes for millions of Americans watching.
That's especially true of Melania Trump, who has spoken relatively little and remained somewhat of a mystery to the public.
What we do know of Melania Trump includes her fashion, and it's an area in which she's in full command. She was, after all, a professional model, walking runways in Milan and Paris in the 1980s and '90s and inhabiting a world of luxury even after she ended her fashion week stints.
As many have noted, Melania Trump has a uniform. She favors an unwavering array of cool neutrals like icy pink and beige, with occasional splashes of patriotic reds and deep blues. With pin-up proportions, Melania Trump, 45, has mastered how to highlight her waist with waist-cinching belts and favors slim-cut, body-conscious silhouettes.
In November, for her very first campaign trail appearance, in South Carolina, she wore a nude, body-hugging dress with a thick belt and a bright red coat draped across her shoulders. The night Donald Trump came in second in the Iowa caucus, she wore a similar red coat, but with a tight red dress underneath. Following the South Carolina primary, which Donald Trump won, she wore a simple pink sheath with a massive diamond bracelet on her left arm. In New Hampshire, where he won the primary, she wore a black dress with a bedazzled belt to cinch the waist.
Melania Trump's approach when it comes to fashion, it seems, is that she's above it. Her consistent aesthetic, one that's timeless but never stodgy, signals a self-assurance and a confident ability to ride above the fast-fashion fray, perhaps thanks to her wealth, her sturdy place in the social hierarchy or her own experience in the fashion world.
"I don't follow what is in fashion now," Melania Trump has said, according to the Telegraph. "I just listen to myself and what I like... I wait for the right occasion or see how I feel each day."
Another look she favors, which requires a level of skill, is the act of hanging a coat on her shoulders, wearing her coats almost like a suit of armor. It's something the Telegraph called "the shoulder robe" and something Yahoo noted is more often seen on elite fashion editors. The style signals not only that she is elegant and sophisticated, but also untouchable and unflappable. After all, she can't move too abruptly or casually, or the jacket will fall.
She's timelessly glamorous, impossibly put-together and aware of trends but not a victim of them.
There seems to be an allure to her special brand of glamour, one that the media and voters are familiar with — if not in the White House, than at least from fashion magazines. People like that her hair's always done. People like that what she wears is always beautiful. People like that she's basically perfect by traditional model standards. When she posed nude for a 2000 issue of British GQ, the photographer noted, "She is easy to photograph because she has no flaws," according to the Washington Post.
As Donald Trump's former political adviser, Roger Stone, told the Washington Post, "She would be the most glamorous first lady since Jackie Kennedy."
An untouchable first lady? But let's not forget that we have just recently had a glamorous first lady — or if not glamorous, at least very stylish. In a lot of ways, Melania Trump is not too dissimilar from our current first lady, Michelle Obama.
For starters, they are both well-dressed, so you'll probably never see either of them in a pair of Ugg boots. They are also both tall and therefore a striking presence — Melania Trump and Michelle Obama both stand at a height of 5-foot-11.
They are both huge fans of the body-skimming shift dress, which can be undoubtedly chic. And they're not afraid to flatter their figures a bit, with Melania Trump cinching her waist at every opportunity (a look FLOTUS has come to enjoy as well), and Obama sparking a public debate about whether or not it was appropriate for her to wear sleeveless dresses. (Spoiler alert: It was.)
But it's Melania Trump's degree of glamour that sets her apart. Her look is polished and consistent, full stop. She's had too many years of red carpet training for it not to be. Her normal attire for public events means draping herself in Dolce and Gabbana and wearing Louboutin high heels. It's a look that's already earned her the title "first lady of fashion."
She's even taken this style savvy to create a budding empire for herself. Since she hasn't modeled in years, she's started her own jewelry line for QVC, which features big chunky necklaces made of fake gold and crystal accents and chain-link gold bracelets you'd buy for a woman you probably don't know very well. And when's the last time you heard of a first lady with her own fashion line?
That glamour isn't just about fashion industry experience; it's also, inevitably, about money. While Obama has certainly worn her fair share of pricey clothing as first lady, Melania Trump's expensive wardrobe predates any potential presidential status.
Just go back to their weddings: On her wedding day in 2005, Melania Trump wore a custom Christian Dior dress worth six figures that landed her the cover of Vogue. Obama wore a satin, off-the-shoulder dress with a sweetheart neckline by no designer in particular to her ceremony in 1992, which we can only assume came in under six figures. The dress choices spoke to the women's lives at the time; Donald Trump already had hotels to his name, while a young Barack Obama was working as a law professor for the University of Chicago.
For Melania Trump, that level of designer gear isn't limited to wedding dresses, but is suffused throughout her everyday closet. A self-professed lover of dressing up, Melania Trump's idea of lounging around involves "silk dressing gowns," and her favorite shopping destinations include Gucci, Louis Vuitton, Chanel and Valentino. When she offered Elle readers a peek into her closet, her favorite items ranged from an Alexander McQueen clutch with a skull on top to highly covetable Christian Louboutin heels.
The messages that fashion sends: While Obama has worn designer goods since becoming first lady, Melania Trump has been wearing them for literally decades. Melania Trump's level of luxury is something Obama not only can't replicate outside the White House (or at least probably couldn't before entering it); it's also not relatable for many American women, just as fashion magazines filled with designer clothes are.
Sure, Obama wears expensive things, like the marigold Narciso Rodriguez dress for the 2016 State of the Union address. But she has glided through the White House in a healthy mix of high- and low-budget items that was seen as refreshing from the very start. She was praised for wearing, among other things, J. Crew gloves at her husband's first inauguration; a J. Crew belt at his second; a $35 H&M dress on Today; a $10 T-shirt for a lunch with Nancy Reagan; and a J. Crew cardigan to meet a former British prime minister's wife. She repeats accessible outfits like dresses from Talbots on the regular.
Her fashion sense is relatable thanks to price, but also style. Take her controversial sneakers, for example. The metallic Lanvin shoes cost an eyebrow-raising $540 — but they were, after all, sneakers. Worn while dancing with Jimmy Fallon or shooting hoops, the clothes themselves send an approachable message, even when they're expensive.
As a country, Americans have grown used to that kind of approachable first lady, one who Instagrams with us and shops at Target. That reputation has been partly established and continually reinforced by her fashion.
That in itself was a game-changer eight years ago. In many regards, Melania Trump is in fact more similar to glam, fashion-savvy first ladies who came before her, like Mary Todd Lincoln and Nancy Reagan, who had reputations for being extravagant dressers and spenders. Despite her penchant for Lanvin sneakers or Narciso Rodriguez dresses, Obama hasn't established quite the same reputation.
What does that mean for our possible next first lady? Melania Trump hasn't been the brunt of too much criticism thus far, partly thanks for her own doing. While former first ladies have faced criticism about their hair to their makeup to their overall style, Melania Trump hasn't faced much critique so far. Following Obama's skewering in the press during the 2008 campaign, we kinda don't blame her.
"I chose not to be on the campaign," Melania Trump told Harper's Bazaar. "I made that choice." She has been, as the New York Times called her in September, a "silent partner."
But her fashion itself has also played a role in setting her apart, putting a slight remove from the voters. Her look is quiet, yet highly glamorous. She doesn't succumb to trends, but instead has built her own aspirational wardrobe full of solid-colored, form-fitting armor. She boasts a closet regular women might long for, as they do in magazines, but struggle to replicate.
At this point, there is no telling who will be the new first lady (or gentleman) come 2017. But if it is Melania Trump, she will stand as an entirely new kind of first lady, with an entirely different wardrobe.