Hillary Clinton Thumps Bernie Sanders in South Carolina Democratic Primary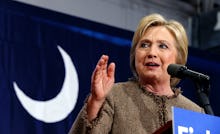 Hillary Clinton won the South Carolina Democratic presidential primary on Saturday, defeating Sen. Bernie Sanders by a wide margin, thanks to overwhelming support from African-American voters.
The Associated Press called the race for Clinton shortly after polls closed at 7 p.m. Eastern. 
Clinton had been leading by 25 points in the polls in the run-up to the Palmetto State primary, the first contest in a Southern state for the Democrats. Sanders has struggled to connect to African-American voters and had largely written off the state in the days following his loss to Clinton in the Nevada caucuses a week ago. Instead, Sanders' focus has shifted to the states voting on Super Tuesday, when 865 delegates are at stake. Clinton holds wide leads in most of those states, as well.
Still, Clinton's resounding victory in South Carolina is a stark turnaround from her performance in the state eight years ago. In 2008, Clinton lost to then-Sen. Barack Obama by a 29-point margin. This time around, her campaign focused on leveraging the support of black leaders in the state to defeat Sanders, boasting a range of endorsements and the support of Rep. James Clyburn, the most influential Democrat in South Carolina.
With her victory in South Carolina, Clinton has shown an ability to build a racially diverse coalition, putting her in position to effectively wrap up the nomination in the coming weeks.
How Clinton won: According to exit polls in South Carolina, over 60% of voters in Saturday's primary were African-American — by far the highest level of minority representation in the first four states of the nomination contest, as this graphic from ABC News demonstrates:
In 2008, black voters made up 55% of the vote in South Carolina, and Democrats on Sunday were overwhelmingly in favor of continuing Obama's policies. Seventy percent of voters said the next president should "generally continue Obama's policies," and that number increases to nearly 90% among black voters.
Can Sanders come back? While Sanders effectively conceded South Carolina over the past week, his campaign did make a significant investment there, pouring money into advertising and dispatching surrogates across the state. He seemed to be making an effort to reduce Clinton's margin of victory in South Carolina, if not win outright.
For Sanders, his failure to appeal to African-American voters represents a potentially fatal flaw in his campaign for the nomination. Sanders has instead relied on the support of young voters and white liberals, both of whom propelled him to victory in New Hampshire.
As the campaign shifts to Super Tuesday and beyond, Sanders will be focused on collecting delegates in states like Minnesota, Oklahoma, Massachusetts and his home state of Vermont. His campaign has already moved beyond South Carolina — Sanders was in the air as polls closed, en route to a rally in Minnesota where he was to speak Saturday night.
Sanders has the money to compete in states across the country for the foreseeable future, but if Clinton attains an insurmountable delegate lead within the coming weeks, pressure will build for Sanders to exit the race and unify the party.
For now, though, the race goes on. And Clinton can claim that South Carolina's results prove she has the support needed to clinch the nomination.