Brace Yourself: 'Making a Murderer' Might Just Be Coming Back for Season 2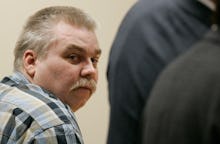 Jeffrey Phelps/AP
We have some really exciting news, but be warned: it comes with a side of disappointment. So everyone promise to be cool, okay? Making a Murderer part two could be in the works. 
According to Variety, the filmmakers behind the Netflix docudrama, Laura Ricciardi and Moira Demos, spoke about the possibility of a second season during a panel discussion at New York City's IFC Center on Thursday, saying they'd approached Steven Avery's new lawyer — Kathleen Zellner — about continuing the series as the defendant fights for his freedom. However, as Variety reported, they do so at their own risk.
"There is a lot of hostility toward these two women in Wisconsin," Stephen M. Glynn, Avery's civil lawyer, said during the panel. "The theory is that have played Wisconsin unfairly. But among those people who think and are a little more educated and thoughtful about these sorts of issues, there is appreciation."
Read more: 'The People v. OJ Simpson' Is the New 'Making a Murderer' According to Twitter
And as far as the filmmakers are concerned, there is also much left to be discussed when it comes to the Teresa Halbach trial. Avery filed an appeal on Jan. 11, alleging that he did not receive a fair trial, that the jurors on his case were biased against him and that the police tampered with key evidence. For her part, Zellner believes he has a reasonable shot at exoneration.
"Generally, since 2007, there have been significant advances in forensic testing," she told Dateline NBC in January, refraining from saying exactly what she would argue during the appeal but saying that "the clearest way to do this is with scientific testing." 
So should a second season of Making a Murderer get the green light, we have many more adventures in blood sampling procedure, possible police malfeasance, sensational haircuts, despicable villains and meme making still ahead. Ricciardi and Demos are far from finished with Manitowoc County. 
"From our perspective this story is obviously not over," Ricciardi said, according to Variety. "It's real life and [Avery's and Brendan Dassey's] cases are both still pending. We have no idea when the magistrate will make a decision in Brendan's case. We do know that two potential outcomes are that the judge could order Brendan's release or he could order a new trial. So we are on the edge of seats about that."
Naturally, so are we. The original Making a Murderer was compiled over 10 years; because that foundation has already been laid, part two shouldn't take that long. What's presently unclear is whether the second installment would be released part-by-part, Jinx-style, as the trial progresses, or whether it would drop en masse at the case's (or, if Dassey's is included, cases') conclusion. Either way, our excitement is electric.
So what's the bittersweet aspect of this news? Defense dream duo — sexpot Dean Strang and heartthrob Jerry Buting — has been replaced by Zellner. They've left some intimidatingly large shoes for Zellner to fill. Can she live up to their illustrious legacy? Does she have what it takes to inspire devotional Twitter handles of her own? We can't wait to find out.