How Kim Kardashian and Kanye West Met — A 'Star Wars' Themed Love Story for the Ages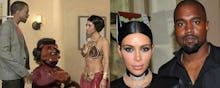 Mic/AP
It's a tale as old as time; a love story for the ages; a collision of two of the biggest forces in the history of pop culture, combining for love. Of course, this is the story of Kim Kardashian West and Kanye West's relationship — a story riddled with fate, surprise and even Star Wars.
2008 was an explosive year for West, who was pursuing television as the next leg of his career endeavors. After HBO failed to green light a show about Yeezy playing a more exaggerated version of himself going through life in Hollywood, The Life Of Pablo rapper paired with late-night talk show host Jimmy Kimmel to begin working on a pilot for MTV titled Alligator Boots, a puppet show inspired by the likes of Crank Yankers and the racy off-Broadway play Avenue Q. Each week, the show was planning on featuring new celebrity guests who would interact with the puppets, with Ye hosting the first ever episode and recruiting the help of an unknown reality star in the making, Kim K.
Read more: How 'The Life of Pablo' Offers a History of Kim Kardashian and Kanye West's Relationship
"I want to have, like, Kim Kardashian play Princess Leia because Kim Kardashian's ass is just so...just perfect," West said in a behind-the-scenes clip from when he and comedian Jimmy Kimmel were working on producing the show's pilot. "It's nothing new for me, I play with puppets at home all the time," Kardashian West joked at the time as she prepped her Star Wars themed outfit and Princess Leia buns. "I think it's gonna go amazing."
It certainly did: Though MTV decided to take a hard pass at Alligator Boots, West's unlikely relationship with a longtime friend and confidant suddenly began. "I was always attracted to him," Kardashian West told Access Hollywood last year. "When I first met him, we worked on a project together and there was definitely a spark, but we were in other relationships and we kept our distance, and that was really that. It was this pilot that him and Jimmy Kimmel were doing that didn't come to fruition." 
Kardashian West's role on Alligator Boots was nothing short of Oscar-worthy. She is standing alongside Ye in full Star Wars garb when she suddenly tells her future husband, "I have to cancel our plans." "Why?!" Asks Ye, visibly upset by her announcement. "You know that bear? The one who wants to put his penis in my vagina?" Kardashian West asks, later walking off with the bear who ultimately steals her from Yeezy. 
Clearly, the bear had troubles maintaining their relationship, as we all know how this story ends.