Here's a Full List of All the Movies Coming to Netflix in March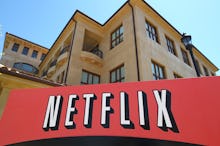 Justin Sullivan/Getty Images
Netflix will be adding a variety of new movies for the month of March. A host of new comedy, drama and action films will be placed on the streaming service next month, according to the Hollywood Reporter.
Read More: How Does Netflix Pay Studios? What the Streaming Giant Does to Obtain Content
One of the most anticipated films that will be appearing on the service in March is likely the Netflix original film Pee-Wee's Big Holiday, which premiers on March 18, according to Vanity Fair. The plot summary on IMDB reads: "A fateful meeting with a mysterious stranger inspires Pee-wee Herman to take his first-ever holiday in this epic story of friendship and destiny." 
Joe Manganiello, best known for his role as Alcide Herveaux on the HBO TV series True Blood, will be appearing alongside Paul Reubens in the original film. 
Netflix subscribers can expect to watch Groundhog Day, Scarface, and Star Trek: The Motion Picture, and Star Trek II: The Wrath of Khan. 
A full list of new films and TV series coming to Netflix in March is available on the Hollywood Reporter's website. Below is a full list of the movies that will be added to the streaming service.
March 1
Adult Beginners 
Ahora o Nunca 
American Pie Presents: Beta House
American Pie Presents: The Naked Mile 
Before We Go 
Blue Mountain State: The Rise of Thadland 
El Desconocido 
Frog Kingdom
Good Burger 
Groundhog Day 
Heaven Knows What 
Hot Sugar's Cold World 
Narcopolis 
Road Trip: Beer Pong
Robin Hood: Prince of Thieves 
Scarface
Star Trek: The Motion Picture
Star Trek II: The Wrath of Khan
The Young Kieslowski
March 2
For Grace 
March 7
Sin Filtro 
March 10
Hateship Loveship 
March 12
Shelter
March 15
10,000 Saints 
4GOT10 
The Falling 
Final Girl 
Finders Keepers 
War Pigs 
March 16
Are You Here 
Charlie St. Cloud 
Gridiron Gang
Larry Crowne
Promised Land 
March 18
He Never Died 
Jimmy Carr: Funny Business 
My Beautiful Broken Brain
Pee-wee's Big Holiday 
March 22
The Art of Organized Noize
The Ouija Experiment 2: Theatre of Death
March 24
The Forbidden Kingdom 
A Promise 
March 31
Bachelor Party 2: The Last Temptation 
Fright Night 2 
Murder Rap: Inside the Biggie and Tupac Murders 
Sunshine Superman 
Yu-Gi-Oh! Bonds Beyond Time