Kim Kardashian Says People Don't "Get" Kanye West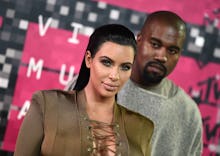 Jordan Strauss/AP
Celebrities just want to feel understood. Unfortunately for Kanye West, wife Kim Kardashian West doesn't seem to think audiences quite get the talent behind The Life Of Pablo. In a message posted on both her website and lifestyle app on Friday, Kardashian West addressed the rumors her marriage to the Chicago rapper is facing troubling times, as well as discussing the "Ultralight Beams" rapper's recent Twitter spasms.
"People don't get that Kanye will stand up against the whole world for his creativity and art," Kardashian West wrote, according to People Magazine. The reality star and mother of two clearly wants fans to know she is OK, despite the rumors of her marriage with Ye being on the rocks.
Read more: Kim Kardashian Revealing Saint West on Her App Shows How Far Her Career Has Come
West has been taking to Twitter as of late to speak with fans — rather candidly – about his feelings on a range of social issues. He's admitted to supposedly being $53 million in debt, claiming he spent that amount to build his fashion line with Adidas, as well as create his latest album The Life of Pablo and believes someone along the lines of Mark Zuckerberg or Disney should fund his creative ideas. 
Well, as it turns out, his biggest fan is all good with the public outbursts, writing she's been keeping up with his latest tweets, accompanying him on his music video shoots and apparently supporting him throughout his backstage meltdowns. Only Kardashian West's loyal subscribers can read the full post here.