Virginia Woman Says KFC Fired Her for Being Transgender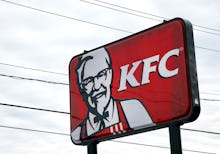 A Virginia woman says a Richmond branch of KFC hired and subsequently fired her within the hour — upon learning she was trans.
WRIC-TV reported 27-year-old Georgia Carter says the manager who hired her called her shortly thereafter, saying he was confused by her driver's license, which listed her as a male.
Carter told KTRK a previous job offer at $7.50 an hour was rescinded. According to Carter, the manager told her "Oh, we can't hire you because we don't know which bathroom you can use."
In an interview with the station, the unnamed manager denied a formal job offer was made and said he would reconsider the decision if a change was made to Carter's license.
Virginia does not have any state laws prohibiting discrimination on the basis of sexual orientation or gender identity, and the Human Rights Campaign lists it as one of the states where employees can legally be fired for being transgender.
"In six studies conducted between 1996 and 2006, 20 to 57% of transgender respondents said they experienced employment discrimination, including being fired, denied a promotion or harassed, " wrote the HRC. "Though even more difficult to measure, transgender people also face incredible barriers as job applicants."
However, a recent survey from the Public Religion Research Institute found 71% of Americans support "laws that would protect gay, lesbian, bisexual, and transgender people from discrimination in jobs, housing, and public accommodations," including "majorities of all major demographic, religious, and political groups."
March 1, 2016, 10:57 a.m.: Mic has received a statement from KFC about the Virginia franchise, the manager of which it says was fired for discriminating against the woman who made the complaint. Read KFC's statement in full below: 
KFC's policy is to treat everyone fairly, equally and with respect, and we do not tolerate discrimination of any kind. Upon learning of this allegation, the franchisee who owns this Richmond restaurant conducted an immediate and thorough investigation. The manager has been terminated for violating the franchisee's anti-discrimination policy, which is inclusive of gender identity and sexual orientation. The franchisee's leadership has also had a conversation with Ms. Carter, offering her employment at this restaurant or any of their Richmond area KFC restaurants, effective immediately. Additionally, the franchisee is emphasizing sensitivity and compliance with their policies to keep this from happening again.