8 Amazing Drake Songs You Might've Never Heard That Weren't Radio Hits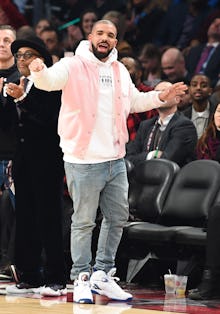 George Pimentel/Getty Images
Almost every song Drake puts out becomes an instant hit. The Canadian rapper has churned out recent critical successes including "Hotline Bling," "Started From The Bottom" and "How About Now" in a string of musical releases, including both studio albums and mixtapes. 
Though most of his songs are typically played ad nauseam over the airwaves, topping the charts with emotional lyrics and corny dance moves, some of Drake's best works were never released as singles or promoted as heavily as his Top 40 hits. 
Read more: Rihanna and Drake Have Dropped New Music — Frank Ocean, Where Is Your New Album?
What's more, some of his most emotional lyrics can be found on the underrated songs. Sometimes, it's unclear what exactly differentiates a Drake smash anthem heard just about everywhere from any of Drake's other tight raps and solid beats found in almost every one of his songs. Perhaps there's only room for so much Drake on the radio — luckily, there are a number of his lesser-heard songs discoverable across the world wide web.
"Now And Forever"
"Heat Of The Moment"
"Star67"
"Closer"
"Preach"
"Dreams Money Can Buy"
"Jungle"
"9 A.M. In Dallas"