The Oscars Denied Trans Singer Antony Hegarty a Chance to Perform in Favor of Bigger Stars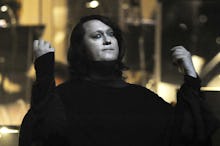 Typically, when an artist is nominated for best original song at the Academy Awards, they get a chance to perform it on the Oscar stage. Some high-powered performers will take the stage this year, including Lady Gaga, Sam Smith and the Weeknd. But not every nominated act will get that same chance — not even those that made history.
Anohni, a trans singer who previously performed under the name Antony Hegarty, became the second transgender singer to receive an Oscar nomination, for her song "Manta Ray," written in collaboration with composer J. Ralph for the documentary Racing Extinction. Yet, a nomination is all the history that will be made: Hegarty will not be appearing onstage at the Oscars on Sunday. Meanwhile, Dave Grohl, the god uncle of grunge, not even nominated for any music, will.
In an essay shared Friday, Hegarty revealed she's boycotting the Oscars.
"I imagined how it would feel for me to sit amongst all those Hollywood stars, some of the brave ones approaching me with sad faces and condolences," Hegarty wrote, describing her feelings about attending. "There I was, feeling a sting of shame that reminded me of America's earliest affirmations of my inadequacy as a transperson."
Hegarty said that she knows a lot more than her gender identity worked against her in terms of deciding who takes the Oscars stage. Her music is far less accessible than the ballad belting of Lady Gaga or Sam Smith, or even the straightforward rock 'n' roll of Dave Grohl. Her music also deals with far less seductive themes: "Manta Ray" is specifically about the environment.
"I am relatively unknown in the U.S., singing a song about ecocide, and that might not sell advertising space," she wrote. "But if you trace the trail of breadcrumbs, the deeper truth of it is impossible to ignore. Like global warming, it is not one isolated event, but a series of events that occur over years to create a system that has sought to undermine me, at first as a feminine child, and later as an androgynous transwoman."
Hegarty started out in music as the lead singer of the art pop group Antony and the Johnsons. She produced four studio full-lengths with the group before announcing her intentions to experiment with as a solo act — performing under the name Anohni — in Feburary 2015.
Throughout her career, Hegarty has been deeply engaged with feminist and environmental issues. She leads a feminist art collective "Future Feminism," which provides what the movement itself describes as a "call to arms to reorganize ourselves as a species and affirm archetypally feminine values."
She keeps a close eye on the way transgender people are treated in the media, and has maintained a close friendship with Laverne Cox. In an interview with Flavorwire, Hegarty described Cox's second interview with Katie Couric as her "favorite thing to happen on TV in a million years."
Cox shared Hegarty's essay Thursday and commiserated with every advocate still frustrated that being trans is still a block toward appear on primetime television to perform.
Hegarty's snub is yet another sign of the Oscar's endemic habit of overlooking minority voices. The Academy's failure to nominate a single actor or actress of color caused the internet to revive its #OscarsSoWhite hashtag. The outcry, propelled by talents such as David Oyelowo, Will and Jada Pinkett Smith speaking out, reached such a fever pitch that the board of directors voted unanimously to reassess their membership demographics.
Hopefully, this new voting body will also make more of an effort to represent non-cis performers like Hegarty alongside more women and people of color. However, Hegarty is somewhat skeptical of celebrities speaking out on identity issues that don't necessarily concern them.
"Identity politics are often used as a smokescreen to distract us from this viral culture of wealth extraction," she wrote in her essay. "Don't forget that many of these celebrities are the trophies of billionaire corporations whose only intention it is to manipulate you into giving them your consent and the last of your money. They have been paid to do a little tap dance to occupy you while Rome burns."
She pledges to continue working to extinguish that fire — all while the academy sorts out its own priorities.
Get the five stories that will challenge you to rethink the world by signing up for MicCheck Daily.