Kumail Nanjiani Says He Was Racially Harassed at Awards Ceremony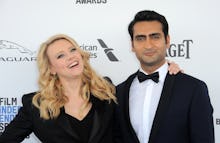 Pakistani-American comedian Kumail Nanjiani, star of HBO's Silicon Valley, co-hosted the 2016 Film Independent Spirit Awards with Saturday Night Live's Kate McKinnon. He says Saturday's ceremony went swimmingly — except for one member of the press who repeatedly dropped racist remarks while taking photos.
Nanjiani, who was born in Karachi, Pakistan, and moved to the U.S. in 2001, tweeted the unidentified photographer told him "smile, you're in America now" while angling for a shot.
When Nanjiani said "excuse me?" the photographer repeatedly told him "welcome to America" — a remark clearly intended to belittle the comedian.
The incident made Nanjiani "feel flattened, reduced and bullied," he tweeted.
Nanjiani has relayed experiences of racism in the U.S. before. His Comedy Central special Beta Male includes a joke about being called "Kumar" on the streets of Orange County, California, a reference to the stoner comedy Harold and Kumar. The comedian quipped that there was no adequate response to such a comment, joking, "Oh, I'm Kumar. Well, you're the main character in most movies that come out."
"Yeah, when someone's racist to you, they win," Nanjiani told WBUR about the genesis of that joke in 2015. "They've won. There's nothing to be said. You've been compressed into one word. There's nothing to do."