Your Guide for Watching the 2016 Super Tuesday Democratic Contests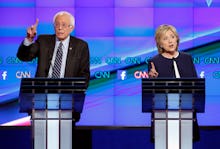 If Hillary Clinton's landslide defeat in the New Hampshire primary made her once-inevitable nomination look very evitable, her comfortable win in the Nevada caucuses and her resounding victory in the South Carolina primary have restored much of that original sheen.
As Democrats prepare to vote in 12 nominating contests Tuesday, progressive insurgent Bernie Sanders hopes to reset the narrative of a race that's slipping from his grasp. The Sanders campaign sees a path to victory in five states, while it hopes to hold down Clinton's margin in the remaining seven.
Read more: Hillary Clinton Thumps Bernie Sanders in South Carolina Democratic Primary
A total of 865 pledged delegates — all allocated proportionally — will be awarded in Tuesday's contests. That accounts for more than a fifth of the 4,051 total pledged delegates, and more than a third of the 2,382 delegates needed to win the nod. Most polls close at 7 p.m. or 8 p.m. Eastern, but Alaska's Republican caucuses will go until midnight.
Here's a contest-by-contest rundown of what to expect — and what's at stake — in the race's most pivotal night yet.
Alabama
On Saturday, Clinton buried Sanders among African-Americans in South Carolina, winning 84% of their votes to Sanders' 16%. That jaw-dropping margin dealt a devastating blow to the notion that Sanders will make substantial inroads with black voters as he builds greater name recognition and African-Americans become better acquainted with him.
That portends well for Clinton in Alabama, where blacks comprised 51% of the Democratic electorate in 2008. A recent Public Policy Polling survey gave Clinton a 59% to 31% edge over Sanders — and that poll was conducted before Clinton's momentum-generating victories in Nevada and South Carolina. 
Given the state's demographics, the former secretary of state is certain to run away with the preponderance of Alabama's 53 pledged delegates. Polls close at 7 p.m. Eastern on Tuesday.
American Samoa
The one U.S. territory to have its say Tuesday, American Samoa will award only six pledged delegates in its caucuses. Clinton defeated then-Sen. Barack Obama by 15 points there in 2008, when fewer than 300 Democrats caucused on the Pacific Island.
Arkansas
A former first lady of the state, Clinton is a lock to win Arkansas' primary, which awards 32 pledged delegates. According to the RealClearPolitics polling average, Clinton boasts a nearly 30-point lead over Sanders in the Razorback State. Polls close in Arkansas at 8:30 p.m. Eastern, for some reason.
Colorado
The Rocky Mountain State is deeply polarized between liberals and conservatives. Colorado's voters legalized marijuana by referendum in 2012, and the state's governor signed tough new gun restrictions after a mass shooting at an Aurora, Colorado, movie theater that year. But Colorado Springs is a hotbed of evangelical conservatism, and the state's rugged individualistic streak dovetails with the Republican ethos.
Encouraged by the strongly progressive leanings of Colorado Democrats, Sanders hopes to pull off a win in the state's caucuses, in which 66 pledged delegates are at stake. There hasn't been a single public poll of the state since November, when Clinton led by 28 percentage points. 
High turnout in the liberal college town of Boulder could help propel Sanders to victory, while Clinton hopes the state's rising Latino population will allow her to notch a win in a state she lost to Obama by 34 points eight years ago.
The Colorado caucuses are set to kick off at 9 p.m. Eastern.
Georgia
Given that black voters accounted for 51% of Georgia's Democratic electorate in 2008, the Peach State will prove fertile ground for Clinton, who leads Sanders by about 35 points in the RealClearPolitics average. The state will award 102 delegates. Georgia polls close at 7 p.m. Eastern.
Massachusetts
There's no getting around it: If Sanders can't win the Bay State, his campaign is finished, whether he drops out of the race or not.
A liberal New England state where whites made up 85% of the Democratic turnout in 2008, the demographics of the state are readymade for Sanders, who made waves in October for attracting 20,000 people to a rally in Boston.
Though Sanders would have liked to win the endorsement of progressive Sen. Elizabeth Warren, she has pointedly declined to endorse Clinton — a move that may well have foreclosed a Sanders win. The RealClearPolitics average shows an effectively tied race, although Clinton has pulled ahead by five and eight points in the two most recent surveys.
Ninety-one pledged delegates are up for grabs. Polls in Massachusetts close at 8 p.m. Eastern.
Minnesota
As the networks announced Clinton's South Carolina rout on Saturday night, Sanders was aboard a flight to Minnesota, a state Sanders needs in his "win" column.
The state's caucuses will award 77 pledged delegates, and a candidate like Sanders ought to win a decisive majority of them, given the state's dynamics. Its progressive, largely white Democratic electorate gave Obama a 2:1 victory over Clinton in 2008. Minnesota is also home to Rep. Keith Ellison, a Minneapolis Democrat and one of Sanders' few congressional endorsers.
There hasn't been a public poll of the state since January, when a Star-Tribune survey found Clinton leading 59% to 25%. The Gopher State's caucuses kick off at 8 p.m. Eastern.
Oklahoma
Now a rock-ribbed Republican state, Oklahoma also features a rich history of left-populist activism, dating to the strength of the agrarian-centric Socialist Party there in the early 20th century.
That often-overlooked past informs Sanders' surprising strength in the Sooner State, where he trails Clinton by just single digits in the RealClearPolitics average. The state will award 38 pledged delegates in its primary, and polls close at 8 p.m. Eastern.
Tennessee
Mark the Volunteer State down for Clinton: She dominates Sanders by roughly 25 points in the latest polls, ensuring she'll claim the bulk of Tennessee's 67 pledged delegates in the primary. Polls close at 8 p.m. Eastern.
Texas
While the university environs of Austin are likely to treat Sanders well on Tuesday, Clinton is likely to parlay her strength with African-Americans and Latinos — 51% of the 2008 electorate — into a substantial Lone Star State victory. The most recent polls find her leading by about 25 points.
With 222 pledged delegates, Texas is by far the biggest treasure trove Tuesday. Texas polls, with the exception of some western areas, close at 8 p.m. Eastern.
Vermont
It's not inconceivable that Clinton could almost run the table on Tuesday night, but she likely won't be going undefeated.
Though Sanders has never run as a Democrat in Vermont, and Clinton has picked up the endorsements of luminaries like Gov. Peter Shumlin, Sen. Patrick Leahy and former Govs. Howard Dean and Madeleine Kunin, he's poised to score a smashing victory in his state's primary, which will allocate 16 delegates.
According to RealClearPolitics, Sanders wallops Clinton by 75 points in the Green Mountain State. Polls close at 7 p.m. Eastern.
Virginia
With 95 pledged delegates, the Old Dominion — a crucial swing state in the general election — is a rich prize for the candidates.
Clinton is all but guaranteed to reap the largest dividends; she leads Sanders by 20 points in the RealClearPolitics average. Polls in Virginia close at 7 p.m. Eastern.