Your Guide for Watching the 2016 Super Tuesday Republican Contests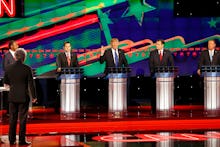 Is Donald Trump unstoppable?
With the billionaire looking likelier than ever to become the Republican presidential nominee, the GOP's 14 nominating contests on Super Tuesday — with about 600 delegates up for grabs — will go a long way toward answering that question.
Read more:
Surveys show Trump with sizable leads in most of the states set to vote Tuesday, so Sen. Marco Rubio and Sen. Ted Cruz, his chief rivals, are vying to emerge as the leading anti-Trump. They're also hoping to hold down Trump's margins of victory, thereby hindering him from building an insurmountable lead in the delegate count.
But with Ohio Gov. John Kasich threatening to eat into Rubio's mainstream GOP support and Dr. Ben Carson competing with Cruz for evangelical votes, the senators from Florida and Texas have their work cut out for them. 
After placing third in the South Carolina primary, in which he lost evangelicals to Trump, it looks increasingly unlikely that Cruz will come roaring back when Southern states heavy on religious conservatives vote Tuesday. Meanwhile, Rubio may well wake up Wednesday morning still without a single primary or caucus to his name.
Here's a rundown of what to expect on Tuesday night.
Alabama
Kasich may boast the backing of Gov. Robert Bentley, but Alabama's primary is Trump's to lose.
According to the RealClearPolitics polling average, Trump leads Rubio 38% to 20% in the state, followed by Cruz at 15%, Carson at 10% and Kasich at 7%. 
Those figures point to the growing plausibility of a scenario in which Trump nabs all 50 delegates; candidates must clear a 20% threshold to receive any delegate in Alabama.
Trump received a further boost in the state on Sunday, when veteran Sen. Jeff Sessions endorsed his bid at a Huntsville-area campaign rally.
Alabama polls close at 7 p.m. Eastern.
Alaska
There hasn't been a single public poll of the Last Frontier since early January — before 2008 vice presidential nominee and former Gov. Sarah Palin threw her support behind Trump. 
That poll gave Trump a 28% to 24% lead over Cruz. Given the Palin endorsement and Trump's momentum from the first four contests, he's likely to surpass that margin on Tuesday.
The state's caucuses will award 28 delegates proportionally, and the caucuses will last until midnight Eastern.
Arkansas
With the tacit support of former Gov. Mike Huckabee, whose daughter recently joined Trump's campaign, the real estate tycoon hopes to full off a victory in Arkansas' 40-delegate primary.
There's scant polling data, however. The last public survey, taken just after Cruz narrowly defeated Trump in the Iowa caucuses, showed a three-way race in the state, with Cruz nominally ahead at 27%, followed by Trump and Rubio at 23% each.
Rubio has lined up considerable establishment support here, with backing from Gov. Asa Hutchinson, Lt. Gov. Tim Griffin, U.S. Reps. Steve Womack and Rick Crawford, and State House Speaker Jeremy Gillam. Despite similar high-profile endorsements in South Carolina, however, Rubio finished a distant second to Trump in that primary.
Polls close at 8:30 p.m. Eastern.
Colorado
Home to the evangelical hotbed of Colorado Springs, the Rocky Mountain State's GOP caucusgoers picked Christian conservative favorite Rick Santorum over frontrunner Mitt Romney in 2012. 
That gives both Cruz and Rubio, who've won considerable institutional backing on the Religious Right, reason for hope. Notably, Rubio enjoys support from Sen. Cory Gardner, who ousted Democratic incumbent Mark Udall in the 2014 GOP wave.
A November Quinnipiac poll — the most recent available — gave Carson a 25% to 19% lead over Rubio, followed by Trump at 17% and Cruz at 14%. Carson has since faded from contention, although he may still garner substantial support thanks to his popularity with religious conservatives.
While Colorado will send 37 delegates to the GOP convention, they aren't bound by the results of Tuesday's caucuses, which kick off at 9 p.m. Eastern.
Georgia
Like Alabama, the Peach State's primary comes with a 20% delegate threshold, which Cruz and Rubio just barely clear in the RealClearPolitics polling average.
Trump leads the field with 36% support, followed by Rubio at 22% and Cruz at 21%. The state will award 76 delegates in its primary, for which polls close at 7 p.m. Eastern.
Massachusetts 
Expect a Bay State rout for Trump. The businessman — who packed an 8,000-capacity arena at a Lowell campaign rally in January — holds a massive lead in Massachusetts polls. RealClearPolitics finds him at 45% support, followed by Rubio at 18%, Kasich at 15%, Cruz at 11% and Carson at 3%.
Worth watching: Whether Kasich manages to upset Rubio for second place, which would deal a huge setback to the Florida senator's hopes of easing the Ohioan out of the race.
The primary's 42 delegates will be awarded proportionally to each candidates who clears a 5% popular vote threshold. Polls close at 8 p.m. Eastern.
Minnesota
Arguably Rubio's best shot at a Super Tuesday victory, Minnesota's caucuses will proportionally allocate 38 delegates among the candidates.
A Star-Tribune poll in January found Rubio with 23% support, followed by Cruz at 21% and Trump at 18%. That survey sampled only 236 registered voters, however, and came before the Iowa caucuses kicked off the nominating contests, so it's hard to know what to expect here.
Worth noting: Rubio has former Gov. Tim Pawlenty and former Sen. Norm Coleman in his corner. The caucuses kick off at 8 p.m. Eastern.
North Dakota
There's no publicly available polling data for North Dakota's caucuses, and it technically doesn't matter who comes out ahead. Like Colorado, the state won't actually award its 28 delegates based on the caucus results, but will allow them to back any candidate they wish.
Oklahoma
Polls show Trump ahead in the Sooner State, but his lead is hardly overwhelming. The RealClearPolitics polling average finds him at 31%, followed by Cruz at 23% and Rubio at 21%. There are 43 delegates at stake, and voting ends at 8 p.m. Eastern.
Tennessee 
Though Rubio notched the endorsements of Gov. Bill Haslam and Sen. Lamar Alexander, Trump is favored to win the Volunteer State.
A recent NBC News/Wall Street Journal poll found Trump garnering 40% support, with Cruz and Rubio competing for a distant second at 22% and 19% each.
The primary comes with 58 delegates, and polls close at 8 p.m. Eastern.
Texas 
This shouldn't have been a fight for Cruz — but with polls showing a surprisingly tight race here, the senator has been working ferociously in recent days to ensure that he scores a big win in Texas' primary, which allocates its 155 delegates among candidates with at least 20% support.
While Gov. Greg Abbott and former Gov. Rick Perry have endorsed Cruz, he's butted heads with the state's establishment Republicans, and having placed third in all three contests since Iowa, he returns to his home state as damaged goods. While he's leading Trump in the RealClearPolitics poll average, he only claims 36% support to Trump's 27%, with Rubio just short of the delegate threshold at 19%.
Should Cruz somehow lose Texas — or even eke out only a narrow win — he'll face a drumbeat of calls to quit the race. Polls close at 8 p.m. Eastern.
Vermont
Another secular-leaning New England state, another Trump stronghold. A recent Castleton University poll gave Trump a 15-point lead over Rubio here, garnering 32% to Rubio's 17%. Cruz and Kasich effectively tied for third place at 11% and 10% each.
If Trump can hold all his opponents below 20%, he'll collect all 16 of Vermont's delegates. Polls close at 7 p.m. Eastern.
Virginia
With its high concentration of well-educated professionals in the suburbs of Washington, D.C., Virginia should be fertile ground for a candidate like Rubio. 
But Trump's popularity elsewhere in the Old Dominion has given him a healthy lead, with the RealClearPolitics average placing him at 37% to Rubio's 22%. Cruz trails with 18% support. 
The primary's 49 delegates will be awarded proportionally, and voting ends at 7 p.m. Eastern.
Wyoming
There's no recent polling for Wyoming's GOP caucuses, but the state's 29 delegates will head to the convention unbound.