Celebs Wear Simple Bracelets to the Oscars to a Send Powerful Message About Gun Violence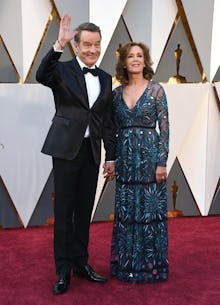 Plenty of celebrities walked down the red carpet Sunday night for the 2016 Oscars with their arms draped in strings of diamonds and jewels. But among the pricey baubles were a few simpler bracelets, worn by the stars to promote a campaign against gun violence.
Celebrities including Steve Carell, best director nominee Adam McKay and best actor nominee Bryan Cranston were wearing a bracelet made of a black string with a gold circle. The accessory represents the #Enough campaign, created through a partnership between anti-gun violence organization the Brady Campaign to Prevent Gun Violence and the jewelry company MyIntent, and is intended as a public call to end gun violence in the United States.
On Saturday, on the red carpet for the Independent Spirit Awards, actress Patricia Arquette wore the bracelet as well.
The bracelets are also meant to bring the stories of gun violence victims to light.
"Each bracelet is a moving tribute to one of the thousands of Americans affected by gun violence every year, and bears the initials and age of [a gun violence] victim," the Brady Campaign said in a press release, in addition to the engraved hashtag #Enough.
Other bracelets available are engraved with the names of victims of gun violence, like Alex C. Teves, who was killed during the 2012 Aurora, Colorado, movie theater shooting, and Akeal Christopher, who was just 14 when he was shot while walking home from a graduation party in 2012 in New York.
The idea is to use the red carpet — a moment where celebrities are already often asked, "Who are you wearing?" — to focus on specific victims as part of a big call to end gun violence.
"When celebrities are asked, 'Who are you wearing?' on the red carpet this Oscars weekend, they can say they're wearing a moving tribute to one of the thousands of Americans affected by gun violence every year," according to the Brady Campaign.
In years past, celebrities have taken a liking to bringing causes onto the red carpet during awards ceremonies. In 2015, Emmy winners and nominees wore green ribbons on their lapels to draw attention to climate change. And at the 2015 Oscars, David Oyelowo wore a lapel ribbon promoting Ebola research.
It's an easy way to show support of a cause, and make your own Oscar ensemble that much more meaningful.