Why Is Super Tuesday Called "Super Tuesday"? The Meaning of the Mega Primary's Name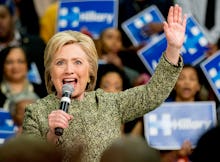 Gareth Patterson/AP
The big day is almost upon us.
Super Tuesday 2016 takes place on Tuesday, when 14 states, one territory and Democrats abroad will engage in some form of preliminary presidential voting, meaning that a huge number of delegates — hundreds for Republicans and over 1,000 for Democrats — are at stake in the March 1 contests.
That enormous advantage is part of the reason why Super Tuesday is so named. Depending on one's political leanings, though, it may feel the opposite of super: Republican frontrunner Donald Trump looks poised to win the day, which may be good news for such groups as the KKK, but is less welcome for women and Muslims, among others.
Read more: Super Tuesday 2016: List of States Voting This Week
Still, the label is less qualitative than quantitative: It describes the sheer volume of voting and has since 1980, when, according to NPR, Alabama, Florida and Georgia staged their primaries on the same day. By 1984, nine states were participating in the same-day primary, but Super Tuesday didn't truly become Super Tuesday until 1988, when 16 states pushed their primaries up to the beginning of March. 
This was a front-loading maneuver intended to counteract "Iowa syndrome." The Iowa caucus is traditionally the first showdown of the primary season and one of its most important, despite the fact that the state sends a small number of delegates to the national conventions; it's also mostly white, i.e., not the best reflection of the country's voters. 
Anyway, Iowa and New Hampshire responded by scheduling their caucuses and primary even earlier, but Super Tuesday retains its importance because so many states are involved. The precise makeup changes from year to year, but because the voting states are mostly from the South, Super Tuesday is sometimes called the SEC Primary — a reference to the Southeastern Conference in college athletics — and in terms of campaigning, often becomes a game of demographics. 
According to NPR, the preponderance of southern states heading to the polls on Super Tuesday gives "more influence, not to moderate whites, but to black voters." But it also means a high volume of Republican voters of evangelical Protestant persuasion: 67% in Tennessee, 63% in Alabama, 61% in Arkansas, 57% in Georgia and 46% in delegate-rich Texas. 
Thus, Super Tuesday is super important to both parties, and may well decide their nominations.