People on Twitter Not Happy About a Whoopi Goldberg and Oprah Winfrey Mix-Up at the Oscars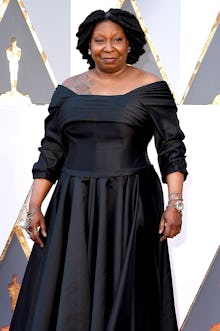 When it comes to social media snafus, Twitter has no chill. The collective wagons circled Sunday when beauty firm Total Beauty's Twitter account tweeted a picture of Whoopi Goldberg in her shoulder-baring Oscar gown that also showed her tattoos. But Total Beauty did not think the person in the dress was the Academy Award winner.
Total Beauty thought it was Academy Award nominee and media mogul Oprah Winfrey.
Twitter wasted no time taking Total Beauty to task with their cutting, mocking responses.
In an ironic twist, Goldberg was in attendance at this year's Oscars to make a statement about the many people who are boycotting the ceremony because of the all-white slate of acting nominees two years in a row.
"Let me tell you something, one of the years that I hosted, Jesse Jackson boycotted," Goldberg told People. "The Color Purple, when we were nominated for 11 awards, was boycotted by the NAACP.
Boycotts — to me — are a pain in the butt. If you want to [boycott] ... don't go see the movie. ... If we're not here, then we're really not here."
Of course, in a way, by coming in and being mistaken for Winfrey, Goldberg kind of proved everyone else's point: Racism is still alive and well.