Lady Gaga Invited Dozens of Survivors of Sexual Assault Onstage for Her Oscars Performance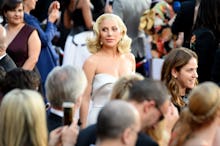 One year ago, Lady Gaga stunned audiences across the country when she came out at the 2015 Oscars and sang a medley of songs from The Sound of Music. There was no dance beat, no neon vomit, no hover dresses, it was just her and her voice, and she blew audiences away.
She set a high standard, and she lived up to it again this year, singing her "Til It Happens to You," an anthem dedicated victims of sexual assault from the documentary The Hunting Ground. Gaga sounded transcendent, and the song's message could not be more deserving of a national stage right now. With the ongoing outrage surrounding Kesha's legal battle with her producer and alleged abuser Lukasz "Dr. Luke" Gottwald, this is the song the world needs to hear.
Gaga herself was a victim of rape when she was 19, just starting out in the industry, and resisted making it a part of her act for a long time. "I don't want to be defined by it," she told Howard Stern in December 2014. "I'll be damned if somebody's going to say that every creatively intelligent thing I've ever done is all boiled down to one dickhead that did that to me."
When she was approached about "Til It Happens to You," she said she it was something she needed to be involved in, even though it was emotionally taxing. "Every time I listen to it, I cry," she said, as reported by the Los Angeles Times. "Every time I get a text about it, I always feel sick. It's like this thing you don't want to face. But because she wanted to face it with me, it reminded me of what the song is for."
Gaga has been extraordinarily active in recent conversations surrounding sexual assault. She tweeted her support after Kesha's injunction to remove herself from Dr. Luke's contract was denied by a New York State Supreme Court on Feb. 19.
Her feelings in the case almost got in the way of her performance. "I got so upset thinking about Kesha I almost didn't go to rehearsals," she said. "But of course I did, because I had to."
The song is up for best original song, up against Sam Smith's "Writing's on the Wall" and the Weeknd's "Earned It."