13 Twitter Reactions to Chris Rock's Wild, Free-Wheeling 2016 Oscars Monologue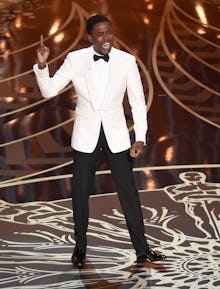 Amid the widespread reactions to the #OscarsSoWhite controversy, all eyes were on how Chris Rock would handle hosting duties — particularly after his peers had requested he boycott the awards show. However, Rock stayed the course: Rather than boycott the ceremony, he tweaked the opening monologue as a result of #OscarsSoWhite.
"Chris is hard at work," Academy Awards producer Reginald Hudlin told Entertainment Tonight in January. "He and his writing staff locked themselves in a room. As things got a little provocative and exciting, he said, 'I'm throwing out the show I wrote and writing a new show.'"
Rock delivered, highlighting in his opening remarks that black actors want to "get the same opportunities." Broadly, the Twitterverse had a warm response to the monologue and its overt addressing of #OscarsSoWhite.
If the opening monologue is any indication, Rock is geared up to hit diversity throughout the ceremony. Considering how many categories are an all-white ensemble, he'll have plenty of opportunities to do so.