Jenny Beavan's Leather Jacket Deserves a Spot on Every Oscars "Best Dressed" List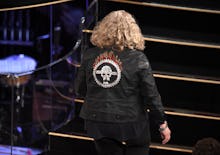 Within 90 minutes of the 2016 Oscars, the film Mad Max: Fury Road was already feeling the love, winning the golden statuette for best makeup, best editing, best production design, best sound editing and best sound mixing.
But it was the film's costume designer, Jenny Beavan, and her win for best costume design, that really got people talking. Or, more specifically, her jacket.
Pretty amazing, right?
Beavan picked up her second Oscar win (she won in 1987 for A Room with a View) outfitted in a leather jacket with a bedazzled skull and flames across the back.
Once she got up to accept the award from Oscar nominee Cate Blanchett, the Twittersphere reacted appropriately.
It also made people want to buy it right off her back.
By wearing a garment that wouldn't look out of place in a dive bar, she instantly became everyone's hero — and ours as well.