Lady Gaga's Powerful 2016 Oscars Performance Got a Standing Ovation From Twitter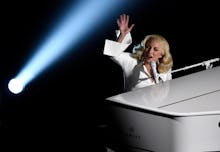 Chris Pizzello/AP
After being introduced by Vice President Joe Biden at Sunday's 88th Academy Awards, Oscar-nominated Lady Gaga delivered a powerful performance of her equally powerful song "Til It Happens to You" from The Hunting Ground, a documentary about campus rape. The song itself, in which Lady Gaga worked with Diane Warren on, was nominated for an Oscar for best original song.
Dressed in all white and at a white piano, Lady Gaga sang the emotional song, which she dedicated to sexual abuse survivors. The musician herself was a survivor of sexual abuse at age 19, the Guardian reported. At the end of the performance, other survivors joined Lady Gaga onstage. The moving performance was met with a standing ovation.
Read more: Lady Gaga Invited Dozens of Survivors of Sexual Assault Onstage For Her Oscars Performance
Fans at home found her performance equally poignant, and headed to Twitter to praise Lady Gaga in their own digital standing ovations. From being described as a "punch in the gut" to "powerful," here are the reactions to Lady Gaga's Oscars performance of "Til It Happens."
The heart-rending song is a candid picture of life post-sexual abuse from the victim's perspective. In the song, Lady Gaga sings, "You tell me it gets better, it gets better in time/ You say I'll pull myself together, pull it together, you'll be fine/ Tell me, what the hell do you know? What do you know?," according to lyrics from Genius. Throughout the song, Lady Gaga sings about how "'Til it happens to you, you don't know how I feel, how I feel."