Joe Biden Asked Oscar Viewers to Fight Rape Culture on College Campuses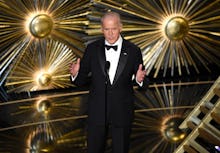 During Sunday's 2016 Oscars, Vice President Joe Biden took the stage to introduce Lady Gaga's performance of her song "'Til It Happens to You" from the documentary The Hunting Ground.
During his introduction, Biden asked those watching at home to help change rape culture on college campuses.
"Despite significant progress over the last few years, too many women and men, on and off college campuses, are still victims of sexual abuse,'" Biden said.
"Tonight, I'm asking you to join millions of Americans, including me, President Obama and the thousands of students I've met on college campuses and the artists here tonight to take the pledge. A pledge that says 'I will intervene in situations where consent has not or cannot be given."
Shortly after his introduction, where he asked people to visit the website for the anti-sexual assault campaign "It's on Us," Lady Gaga was joined onstage for her performance with a few dozen sexual assault survivors.
But before he left the stage, he drove the point home by asking viewers to make sure they let survivors know "they did nothing wrong."
"We must and we can change the culture," Biden said. Watch his remarks in full below.