Here Are Some of the Out Gay People Who Won Oscars Before Sam Smith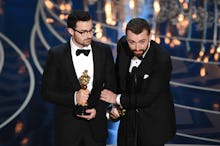 After winning the Oscar on Sunday for best original song, Sam Smith took the stage to accept his statue. He began his speech by bringing up an article by Ian McKellen about his hopes to see an out gay actor win an Oscar.
However, Smith misinterpreted it and thought that he was the first out gay artist to win an Oscar. Twitter was quick to correct him.
Also, some people on Twitter were upset that, in his rush to stand up for the LGBTQ community, Smith ignored the fact a trans performer was denied the opportunity to sing their entry in the best original song category.
While Smith may have misspoken, it is important to remember that there are indeed a number of out gay people who have won Oscars. Here are just a few — not even the whole list.
Elton John
He won the Oscar for best original song in 1995 for The Lion King's "Can You Feel the Love Tonight."
Melissa Etheridge
Etheridge won an Oscar for the song "I Need to Wake Up" from the film An Inconvenient Truth in 2007.
Stephen Sondheim
You probably know Sondheim as the name behind some of the biggest musicals of all time, but in 1991 he won the Academy Award for best original song, from the movie Dick Tracy, for "Sooner or Later (I Always Get My Man)," performed by Madonna at that year's ceremony.
Dustin Lance Black
Black won an Oscar for best original screenplay in 2009 for the film Milk, about the life of LGBT activist and out gay San Francisco board member Harvey Milk.
Bill Condon
In 1999, Condon won the best adapted screenplay Oscar for the film Gods and Monsters, which starred out gay actor McKellen.
Watch Smith's acceptance speech below.