Leonardo DiCaprio's 2016 Oscars Acceptance Speech Includes a Call to End Climate Change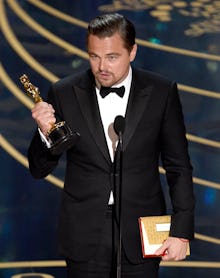 Chris Pizzello/AP
At the 88th Academy Awards on Sunday night, actor and environmentalist Leonardo DiCaprio went onstage to receive his first Oscar for best actor in The Revenant. DiCaprio ended his acceptance speech with a call to end climate change.
"Climate change is real," he said. "It is happening right now." DiCaprio has recalled seeing the effects of climate change firsthand while filming The Revenant, which took place in harsh weather conditions, Conde Nast Traveler reported.
Read more: Leonardo DiCaprio Honored Native Americans in His Golden Globe Acceptance Speech
In January, DiCaprio made a similar call to action when his role in The Revenant won the Golden Globe for best actor in a drama. During that acceptance speech, he honored Native Americans. "It is time that we recognize your history and that we protect your indigenous lands from corporate interests and people that are out there to exploit them," DiCaprio said. "It is time that we heard your voice and protected this planet for future generations."
Like with his Golden Globe speech, fans praised DiCaprio for addressing climate change during the win: