This New Study Reveals the Surprising Truth About Abortion in the United States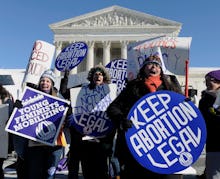 Abortion has been a legal right in the United States for over four decades. Yet it is a procedure that is still mired in myths and stigma, according to a new Vox and Perry/Undem poll of over 1,000 registered American voters.
This finding is perhaps unsurprising, given inflammatory and inaccurate rhetoric about the procedure. Perhaps the biggest myth the study revealed is not one held by respondents, however, but one perpetuated about them. Despite false perceptions about abortion, the majority still supported women's rights to safely access it. Should a woman decide to have an abortion, over three-quarters of respondents supported her right to do so and the overwhelming majority wanted the experience to be without burden, comfortable, affordable and informed with medically accurate and unbiased information.
Myths persist. There's no way around it: Americans are decidedly ignorant about the facts of abortion. Between 25 to 30% of women in the United States will have an abortion, according to Vox, yet the vast majority of respondents assumed it's far more rare: 27% of those polled put the abortion rate at fewer than 10%, and 51% put it at less than 20%. 
Over half of respondents also believed abortion is unsafe, rating the procedure as "somewhat safe," "not too safe" or "not safe at all." But the procedure is actually one of the safest in this nation: The mortality rate for abortion is 0.27 deaths for every 100,000 women who have the procedure, according to Vox, which is less risky than procedures like colonoscopies or even childbirth itself.
Abortion stigma: Such revelations about public opinion is crucial from a legal standpoint. For instance, Supreme Court justices would do well to keep these findings in mind when they hear a crucial abortion rights case on March 2, which will challenge two key parts of HB2, Texas legislation that severely restricts abortion access in the state. 
But these results also less obviously underscore a cultural truth to which abortion rights advocates have been pointing for years. The pro-abortion movement cannot only concern itself with legal battles, but must also address persistent abortion stigma and ignorance. 
"Because supposedly everyone knows that abortion is bad, you may think you're the only person in your community who has had an abortion, and that there's nobody else who understands the situation," Roula AbiSamra, outreach and evaluation manager of the culture-change organization Sea Change, previously told Mic.
This stigma not only creates personal stigma and shame, AbiSamra added, but "can keep people from finding the support that they need, or the health care that they need or from accessing the care they're trying to get in a timely way."
Findings from the Vox poll bolster this point: 63% of respondents had never discussed the experience of having or deciding to have an abortion with someone, and the majority reported when the topic did come up, it was in the context of politics over personal experiences. 
Ultimately, these findings are a crucial reminder that in addition to politically supporting pro-abortion candidates, individuals who support abortion rights might also consider personally speaking out about and destigmatizing the procedure.  
As Lizz Winstead, founder of the organization Lady Parts Justice told Mic, "The more you have faith and confidence in [your abortion story], you'll hear and talk to more people who have had your same experience and realize that you are indeed the majority; we've just been silenced and shamed into thinking we aren't."
h/t Vox