2016 Oscars Were Somehow the Blackest of All Time — But Chris Rock Failed in One Key Way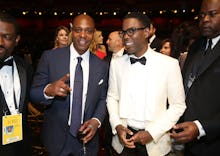 Strange things happen in Hollywood, but maybe none stranger than what took place on Sunday: On a night without a single black acting, producing, directing or writing nominee, the 88th Academy Awards managed — against all odds — to be the blackest Oscars of all time.
Disagree if you wish, or call it irony and overcompensation, but it's hard to recall a mainstream, non-BET or NAACP-affiliated awards ceremony that dealt with anti-black racism so deliberately and persistently. In a twisted way, black entertainers even managed to become the one thing they traditionally have not been for Academy voters:
Visible.
Read more: 11 Things You Missed If You Watched the Oscars Instead of Justice for Flint
How it started: "I'm here at the Academy Awards, otherwise known as the White People's Choice Awards," Rock began his monologue, speaking to an increasingly uncomfortable, mostly white crowd. "You realize if they nominated hosts, I wouldn't even get this job. So y'all would be watching Neil Patrick Harris right now."
The audience laughed, politely, and did so throughout the evening. But they weren't always happy laughs — midway through, some of Rock's jokes were met with an almost dead silence.
That didn't stop him. "Is Hollywood racist?" the comedian asked at one point. "You're damn right Hollywood is racist. But it ain't that racist that you've grown accustomed to. Hollywood is sorority racist. It's like, 'We like you Rhonda, but you're not a Kappa.' That's how Hollywood is."
"You're damn right Hollywood is racist. But it ain't that racist that you've grown accustomed to. Hollywood is sorority racist."
It was a remarkable moment, but all of Rock's daring jokes had a key flaw: They missed the bigger point about who's being left out in Hollywood. The glaring misstep came late, when the comedian joked about the Oscars' accounting firm and brought out two Asian children and one white Jewish child as representatives — both of the firm itself, and of the kids who "probably" made the iPhones in the pockets of the show's audience members.
The joke highlighted how, even on a night where racism could be discussed so openly and persistently, the absence of Asian, indigenous American, Middle Eastern and Latino talent was felt even more sharply than the lack of black talent — despite a Mexican filmmaker winning the best director prize for the third year in a row.
It's a problem Hollywood has yet to reckon with, one that ultimately left a stain on the evening and made the industry's broader diversity problem feel even more stark.
In any case, things got blacker as time progressed. This wasn't 2002, when Halle Berry and Denzel Washington walked offstage with the best actress and best actor statuettes, respectively. Nor was it 2014, when the slavery drama 12 Years a Slave sent a black producer, screenwriter and actress all home with Oscars.
But look at the evidence: Rock's monologue found space for not one, but two jokes about Kevin Hart — yes, Kevin Hart. Black comedians were featured prominently in skits about Hollywood whiteness, one of which had a biting line from Whoopi Goldberg about how the industry will produce a movie about the white woman who invented the mop, while a black woman would have to invent the "cure for cancer" to get a TV movie about her.
The ceremony even featured an appearance from Clueless star-turned-Fox News talking head Stacey Dash — who was dragged by Black Twitter in January when she called for the elimination of Black History Month. It seemed, at times, like more black entertainers were employed during Sunday's Oscars than the rest of the year combined.
Needless to say, the show took place against a racially fraught backdrop. Its manifestations were two-fold: First was the social media hashtag #OscarsSoWhite, which started in early 2015 before that year's awards due to an overwhelming number of nominees being white. In 2016, it bled into a boycott led by Jada Pinkett Smith and a handful of others.
The second was a fundraiser, organized by Selma director Ava DuVernay in Flint, Michigan: Music artists, including Stevie Wonder and Janelle Monae, accompanied by filmmakers DuVernay, Creed director Ryan Coogler and others, staged a benefit show at the same time as the Academy Awards to raise money for the embattled city, whose residents have been exposed to lead poisoning via water funneled into their homes by city and state administrators.
The shadow of Flint — which is 56% black — made for awkward stream-crossing when Chris Rock joked that black people haven't boycotted the Oscars so vocally in the past because they had more important things to fight against. "We had real things to protest [in the '50s and '60s]," he said. "[You] know, we were too busy being raped and lynched to care about who won best cinematographer."
Meanwhile, the largest black protest movement in decades has been sweeping the country in response to anti-black police killings and other forms of violence over the last two years — including a former Oklahoma City police officer who was convicted in December of raping multiple black women while on duty.
But Rock's hosting was met with praise across the internet. Outlets ran with headlines like, "Chris Rock's Oscars monologue totally lived up to the hype" or "Chris Rock's Monologue Totally Nails #OscarsSoWhite Controversy." But the show's emphasis on racism — punctuated by the palpable discomfort of its white audience — made for an eight-year low in terms of TV ratings despite an all-time high in placing honest conversations about race in the foreground.
So yes, the show dealt with race in an uncharacteristically pointed way. And it did so through a black lens that made clear the myriad ways the industry has failed its black talent. But in the end, it made an even bigger point, maybe by accident: You can put together an Oscars whose self-deprecation confronts its own racism in jarring and deservedly uncomfortable ways. But as long as you ignore the rest of the industry's marginalized talent, the diversity conversation keeps coming up short.
Next year's Oscars should be fun.