Is Sam Smith Single? Singer Opens Up About Boyfriend... Or Lack Thereof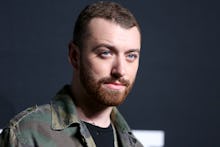 Rich Fury/AP
As Sam Smith gets progressively hotter, the internet is carefully taking note of who he's been cozying up to at awards shows, checking his social media to see if he's posting any pictures with a bae and fans are even professing their undying love for him on their own accounts. Those fans might be happy to learn Smith broke up with his last known boyfriend in 2015, sharing the difficult pain of a breakup with fans over frowns and red wine from his tour bus on Instagram. 
Smith dropped a picture of himself alone on his tour bus, with the following caption: "Sometimes you just need to lay in bed with a glass of red wine and a football T-shirt and listen to Joni Mitchell. It's been a sad day. Beautiful show, but sad day x."
Read more: Watch Sam Smith Sing "Writing's on the Wall" at the 2016 Academy Awards
"This song is very special for me today, as I've actually had to do a very similar thing with someone I've been seeing," Smith told a Toronto crowd in January 2015, according to MTV. The song in question was "Good Thing," a track about unrequited love. "Hopefully I will find someone soon and when I do I think it will be a bit more difficult to sing songs because I will want to sing happy songs ... Right now when I'm on stage I feel like it is good for me, it is like therapy every night.
The relationship wasn't longterm, though it's the only publicly known one Smith has had while in the limelight. His ex's name is Jonathan Zeizel, an American model who starred alongside Smith in his music video for "Like I Can." Since then, Smith has said he isn't exactly looking for a guy, telling the Sun, "At the moment I'm trying to hang on to a relationship with me and my family and my friends." 
"Once I've got into the routine of this life, which I'm still trying to get into that cruise-control with, then I think maybe I can introduce a guy," He continued. "I'm still very single."
Now that Smith is literally a Hollywood version of his already desirable self, fans are swooning even harder than ever before. Unfortunately for the ladies, the Oscar award winner has made it very clear he's only interested in the fellas, though he appreciates the love and support from both genders. So much so, in fact, he has the male and female gender symbols tatted on him: 
And just to make your day, here are some photos of the supposedly still "very single" Sam Smith: