Lady Gaga May Not Have Won the Oscar, But She Won the Night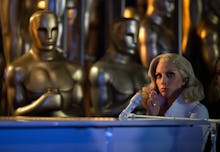 The Oscars stage has been Lady Gaga's for two years running. Last February, she essentially revitalized her career on that stage when she nailed her Sound of Music medley, earning praise from Julie Andrews herself.
This year, with that monumental performance looming in the background, she still managed to shine. Gaga delivered by far the most compelling performance of the night. While most singers aim high for the huge vocal lifts, she dove low, showing off a powerful bottom register on her best original song nominee "Til It Happens to You." She accompanied herself with some stylized piano and brilliant staging, inviting dozens of sexual assault survivors to stand together on stage.
Read more: Lady Gaga Invited Dozens of Survivors of Sexual Assault Onstage for Her Oscars Performance
It was a powerful moment — but not enough to actually take home the Oscar. That honor went to Sam Smith for his stunningly mediocre Spectre theme "Writing's on the Wall." However, when it came to moments where he actually got a change to show off his talents, he botched them. His bungled speech and lackluster performance only served to confirm one fact about last night's awards: Gaga came out on top.
Everything about Gaga's performance operated on a higher level of artistry than any others that night. She had a show-stopping introduction, delivered by Vice President Joe Biden, who provided the context for her to sing a confrontational anthem about sexual assault.
"We must and we can change the culture so that no abused woman or man, like the survivors you will see tonight, ever feel they have to ask themselves, 'What did I do?'" he said in clear and cogent language. "They did nothing wrong."
Gaga added even more power to the words, bringing survivors onstage. Their arms bore empowering messages: "Not my fault" and "Unbreakable." Tears, smiles and cheers flooded the internet as Gaga left the stage.
Lady Gaga bookended that performance with an even deeper discussion of the issue. She preluded the Oscars with posts and statements addressing the scars that remain from her own rape, which occurred when she was only 19, starting off in the industry.
"I never thought anyone would ever love me because I felt like my body was ruined by my abuser," she wrote in a post dedicated to her boyfriend Taylor Kinney during a pause in the show. "But he loves the survivor in me. He's stood by me all night proud and unashamedly."
Even earlier, she tweeted Kesha to say she would be thinking about her while she performed. Kesha later returned that gesture, commending the singer for her resonant performance.
Gaga would have likely used the awards podium to continue the narrative she was crafting throughout the night. She could have shouted out #FreeKesha to revitalize that social movement, and she could have drawn from her experience as a survivor to give strength to others.
Instead, Smith took the stage to bumble through a poorly researched acceptance speech. He claimed himself to be the first out gay performer to win an Oscar — which he's not. He dedicated the award to the LGBT community and complimented Gaga, but failed to mention his fellow nominee Anohni, who was the first transgender performer to receive an Oscar nomination. Some Twitter users would have loved to see the performers switch places.
For a long time, Gaga avoided pinning her name to discussions of sexual abuse following her own rape. "I don't want to be defined by it," she said in December 2014, while sharing the story on Howard Stern's radio show. "I'll be damned if somebody's going to say that every creatively intelligent thing I've ever done is all boiled down to one dickhead that did that to me."
Yet after a performance so masterfully executed, Gaga's talent seems to be once again more boundless than viewers may have assumed. Her ability to create one of the night's most memorable storylines says more about her abilities as an artist than a golden statue ever could.