Scientists Are Developing 3-D Printed Helmets to Prevent Concussions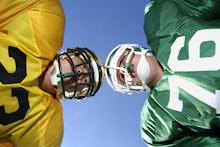 Using helmet designs that can only be manufactured using 3-D printers, scientists are developing a solution to brain injuries suffered in sports.
A group of researchers at the Lawrence Livermore National Laboratory are currently engaged in an 18-month study in collaboration with Autodesk Research, a 3-D design software company, to design the helmet of the future. 
The group is investigating whether 3-D printed microstructures within helmet design can absorb more of the momentum of a collision than current helmet technology. To design the structure of the helmet, they're starting with a question: What part of the impact causes the concussion?
A new way to design: Usually, designers start with a concept or some general idea of what a product will look like. That isn't the case for the researchers at Lawrence Livermore. Instead, they are allowing Autodesk's Project Dreamcatcher software to serve up a design based on what the researchers need it to accomplish. 
"In some ways this is a completely new way of thinking about design," technical researcher at Lawrence Livermore Eric Duoss told Mic. "Could you upfront-design a set of objectives [or] properties and performance requirements without necessarily having detailed or intuitive knowledge of what the structure would be ... and can you have the computer derive that structure for you?"
Duoss and other researchers at the lab are still in the process of figuring out what the tangible design for this futuristic helmet will be, but the anatomy of the helmet will use a relatively new design concept called microarchitecture. 
The idea involves taking the same elements that make up strong, flexible structures and shrinking them down. Imagine the Eiffel Tower's lattice design, but very small.  
"What we realized is, if you start to intelligently distribute material in a controlled fashion at the micro and nano scale, you can obtain properties that were previously unobtainable," Duoss told Mic. Part of the study, in addition to using goal-driven design, is to test out materials that have unnatural qualities.
To that end, the lab is currently playing with a variety of materials to build its helmet constructed of nano-sized lattice. One of the more promising substances is 3-D printed silicon, which could be used to replace the current foam pads that most helmets sport. 
"It's not solid silicon; it's actually 70% to 80% nothing. You could compress the heck out of it. What this means is that it can absorb a lot of energy," Dan White, deputy division leader of the computational engineering division at Lawrence Livermore, told Mic. 
White said some internal analysis has shown these silicon pads could absorb 50% more energy than a solid piece of foam. It was previously impossible to construct these formations, he added, but an increase in 3-D printer resolution has ushered in wave of design innovation. 
Another benefit of 3-D printing, in addition to being able to design components at the micro level, is that helmets can be fabricated to exactly fit the head of the person wearing it.
To some degree, football helmet manufacturers already do this; Ridell makes custom fit helmet liners for example. But 3-D printed helmets could offer a more exact fit. Using 3-D scanners, computer-assisted design software can capture the shape of a person's head automatically. "And that's a huge part of safety, because if a helmet doesn't fit right it's not going to protect that well," White said.
Solving for brain injury: Brain injury is a growing concern for scientists. From 2001 to 2010, emergency room visits pertaining to traumatic brain injury rose 70%, according to the Centers for Disease Control and Prevention. 
In sports specifically, there has been pressure to resolve head trauma in football. In April, a judge approved a class action lawsuit settlement worth nearly $1 billion between the NFL and more than 5,000 former players for medical issues related to concussions sustained during their time as professional athletes. The following year, a study revealed that 87 of 91 deceased football players were found to have a type of brain disease associated with head trauma. Since then, the NFL said it has taken steps to reduce this kind of injury on the field, but players are skeptical. 
"The problem with football is that you can't pad the inside of someone's skull. You're never going to be able to stop concussions from happening in a head-to-head, violent collision," former Minnesota Vikings punter Chris Kluwe said in an interview with CNN, outlining the core issue with preventing concussions in sports. 
A concussion results from the brain knocking into the skull during a collision. Helmets serve to absorb some of the energy from an impact, but they can't keep the brain from moving around. 
Currently, helmets are largely made out of plastic with pads consisting of vinyl and foam. 
Riddell, a popular brand, has taken steps to measure how impacts affect the player by installing tracking technology inside of helmets. While sporting-goods manufacturers are innovating within helmet design, it's unlikely they're working 3-D printed microarchitecture. White says this technology is mostly being researched at the university level.    
What the future holds: The scientists at Lawrence Livermore said the development of their 3-D printed helmet will likely stretch beyond the 18-month time frame allotted for the study. 
In the meantime, they're patenting various discoveries made along the way. Ultimately, the organization said, it will license plans for the helmet to corporate manufacturers.
The lab is also considering this same technology for other applications, like bicycle helmets. Unlike football helmets, which need to withstand multiple jolts, bicycle helmets are one-time use only. 
White said there's lots of room for innovation here. Right now, many bike helmets are made out of styrofoam, but White said they could potentially be made out of a 3-D printed metal mesh that is lightweight but sturdy. Perhaps silicon pads could be adhered to the inside of the metal frame to add comfort, he said. 
Beyond helmets, there's a lot of opportunity for 3-D printed microstructural design in automotive engineering and aerospace, including aeronautics, White said. Airplanes could be made more lightweight, for example. 
Duoss said 3-D microstructured design can also be helpful for products that need to withstand a range of temperatures, because they can be programmed to react in specific ways. For instance, Duoss said, a material might be constructed in such a way that it contracts rather than expands when heat is applied. Conversely, it may neither expand nor contract with temperature change. For devices that need to be launched into space, where they may encounter a wide range of heating and cooling, this characteristic is especially important. 
"Anywhere you need good mechanical structural performance, but due to energy requirements you prefer them to be lightweight," Duoss told Mic.
It's likely these helmets are still a few years off, but the organization said it expects to see its micro-lattice compositions become more common in design at-large in the near future.