A No-Bullshit Guide to "Trends" That Are Literally Things You've Been Wearing Forever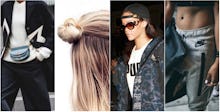 When it comes down to it, we all crave the same things out of our wardrobes. We want a fuzzy shoe to slide into after a long day. We want the hair off our faces while we run errands. We want a place to put our keys, whether they come on a carabiner or a rabbit fur fob. 
Luckily, we already have a lot of these things — even if the fashion industry tries to convince us every couple of months that we need something different.
Season after season, we're served up brand new trends and "must haves" that legions of fashionistas scramble to get their hands on. But when you cut to the core of what makes these extravagant objects so good, it becomes rapidly clear that they are, in essence, pretty similar to what we already have. If the fashion industry is offering up anything, it's a blueprint for how to spin the bare necessities into luxury lust objects. (Hello, single, giant fur mitten at Fendi.)
Think those Gucci slides are some advanced shit? Think again. 
"Fur Slides"
Translation: Slippers
True, Gucci's "it" shoe of the season, an open-back slide lined in sumptuous kangaroo fur, is pretty next-level in terms of luxury. And sure, it's been seen on every member of the glitterati, from Marc Jacobs to Hari Nef. And yes, fur is a massive trend everywhere. But beyond the exorbitant price of the materials, what, exactly, separates these $1000 shoes from the fuzzy lined slippers tucked under our beds that we long for all day in the office? Oh, right — we have an extra grand lining our wallets.
"Half Bun"
Translation: Mullet
You've seen those girls running around town, massive cold brew in hand and tiny round sunglasses perched atop their noses, half their hair piled on their head in a knot, while the rest hangs languidly about their faces. The half-up, half-down hairstyle is hardly a new innovation, but this form of the style takes it to a whole new capital F Fashion level! With a simple twist of one layer of hair, you, too, can be a living work of trendiness!
But also, does this picture remind anyone else of David Spade's Joe Dirt? When, exactly, did we stop seeing the mullet as a style tragedy? Was it Zendaya's advanced mullet 'do at the Grammys, or has the style been sneaking up on us for years?
"Bum Bag"
Translation: Fanny Pack
That heinous piece of nylon hip candy your grandpa infamously toted around your Floridian childhood vacations has spawned mutant fashion offspring. While there's much to be said for nostalgia in fashion (see: this season's '90s grunge redux) and a vintage neon fanny pack might be a thrifter's holy grail, the "bum bag," a premium iteration usually rendered in precious calf leather or pony hair is really just a glorified fanny pack. Worse, it's usually worn without the appropriate irony or humor. Hands-free storage is all well and good, but come on — call a spade a spade, and a fanny pack a fanny pack.
"Joggers"
Translation: Sweatpants
Sweatpants used to be the holy grail of non-fashion (or, at least bad fashion, a la Paris Hilton in the early '00s). They were the comfortable, stretchy bottoms we called home when getting all the way dressed was just too much and reruns of The Bachelorette were plentiful. That was before fashion came through and ripped sweats from the earthly realm, tapered their ankles, raised their price point and dubbed them "joggers": the athleisure phenomenon now often worn to contrast with sharp-shouldered overcoats and Mansur Gavriel bucket bags. We love wearing them, of course, but is nothing sacred? Sweatpants are sweatpants.
"Dad Hat"
Translation: That is literally just a baseball cap.
What was once a beloved cover-up for a bad hair day or an expression of devotion to a favorite team is now being called a "dad hat." As the latest entry into the normcore canon, the simple, usually logo-bedecked baseball cap has found a new place in the daily rotation of fashion girls — often with the joggers-and-overcoat ensemble mentioned above. Slanting the trend as a nostalgic "dad"-inspired movement might make it sound more Fashion, but the basic roots of this topper run deep... and uncool.
And, for the bonus round...
Bone broth, acai bowls, croque monsieurs and other "food trends"
Translation: Foods you've been eating your entire life
In an age when Instagramming an aerial shot of your lunch has come to be expected, if not encouraged, food has undergone a seismic cultural shift and everything's gotten a makeover. That small cup of artisanal bone broth you paid $10 for? Soup. The pricey croque monsieurs bubbling up at hot spots? Ham and cheese sandwiches. A perfectly arranged acai bowl? That's a smoothie in a different container.