Burn Survivor Shalom Nchom's Makeup Transformations Will Inspire You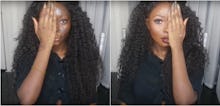 When Shalom Nchom was 9 years old, an accident involving frying oil at her family's grocery store in Nigeria left her with severe burns on her face, neck and shoulders.
Though she was stared at by her peers and adults, and admits to crying on many of those occasions, Nchom did not let them get the best of her — and instead turned her attention to makeup.
Read more: This Powerful Lipstick Tutorial Shines a Light on the Reality of Acid Attacks
"When I was in middle school, because of my scars, I used to wear makeup and I actually didn't use foundation, I used concealer all of my face caked on just to conceal my scars," she said in a recent YouTube video. "Even with that much makeup, I still was unhappy, so makeup should not make you happy."
Though makeup was not a fix-all, it did gain the attention of her pre-teen classmates, many of whom were fascinated and wowed by Nchom's talents. It didn't take long before they began asking her to do their makeup, which Nchom obliged for a cool $5 to $25 per session.
Now, at 20 years old, Nchom goes by the YouTube moniker "Shalom Blac" and has a channel full of makeup tutorials, with videos running the gamut from "how to's" on covering up acne to Rihanna-inspired makeup tutorials.
In her most recent video, Nchom showed the power of makeup by painting half of her face as both Lindsay Lohan's in The Parent Trap would say, "right down the middle." The result is a powerful image, showing two halves, both beautiful, that together make her whole. 
"I'm accepting of what happened and I'm just going to live with that," she says in the video, "so I don't really carry if anyone has anything negative to say about that." Preach!
Beyond her obvious physical beauty, Nchom is showing people everywhere the power of makeup as a tool to both hide scars and build confidence.
h/t BuzzFeed