John Oliver Finally Took Down Donald Trump, Uncovered the Trumps' Dirty Little Secret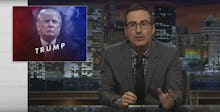 On Sunday night's edition of Last Week Tonight, host John Oliver finally took on Republican presidential frontrunner Donald Trump. The result was a 22-minute roast of epic proportions, excoriating Trump's campaign on each of his supposed selling points and offering some branding advice.
"Donald Trump is America's back mole," Oliver begins the set. "It may have seemed harmless a year ago, but now that it has gotten frighteningly bigger, it is no longer wise to ignore it."
Read more: Watch John Oliver Perfectly Skewer the United States' Abortion Laws
"Donald Trump can seem appealing until you take a closer look, much like the lunch buffet at a strip club, or the NFL or having a pet chimpanzee," he added. "Sure it seems fun, but some day Coco is gonna tear your fucking limbs off."
Oliver attacks Trump's claims that he tells the truth, that he is beholden to no one, that he's "tough" and that he's a successful businessman.
Trump, says Oliver, is like a gold Sharpie — "something that gives the passing appearance of wealth, but is actually just a cheap tool."
Oliver shows a clip of Trump's daughter, Ivanka Trump, from the documentary Born Rich, saying that her father had once pointed to a homeless man and said he had "$8 billion more than me" due to Trump's debt.
"And that really shows you the indomitable spirit of Donald Trump," Oliver says. "To fall to his lowest point, and in that very moment, still find a way to be kind of a dick to a homeless guy."
There's Trump's unimpressive business record, which Oliver notes have included the "very un-good" business failures of Trump Shuttle, Trump Vodka, Trump magazine, Trump World magazine, Trump University and "the travel-booking site GoTrump.com, whose brief existence was, I imagine, a real thorn in the side of anyone hoping GotRump.com featured a single thing worth masturbating to."
Referring to Trump's recent refusal to criticize the KKK, Oliver says, "The point is, with an answer like that, you are either racist or you are pretending to be, and at some point, there is no difference there."
To take Trump down a notch, Oliver suggests critics hit the real-estate billionaire where it really hurts: his brand.
"The very name Trump is the cornerstone of his brand," Oliver quips. "If only there were a way to uncouple that magical word from the man he really is."
In that vein, the Last Week Tonight team has set up an online store hawking products bearing the Trump clan's onetime family name, Drumpf.
"Drumpf is much less magical. It's the sound produced when a morbidly obese pigeon flies into the window of a foreclosed Old Navy," Oliver concludes. "Mr. Drumpf, I await your lawsuit in the morning."
Whether a lawsuit came through this morning is anyone's guess. What we do know, however, is this is when the world saw #MakeDonaldDrumpfAgain hit Twitter's trending ranks.
Get the five stories that will challenge you to rethink the world by signing up for MicCheck Daily.