20 Drake Songs That Show He's Actually a Talented Rapper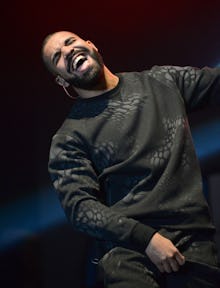 Scott Dudelson/Getty Images
Drake, the Canadian rap heavyweight with often-emotional lyrics and corny dance moves, has become a mainstay in music. From endless club anthems, to various chart topping singles and continuous production of hits — not to mention endless internet memes — it's hard to get away from the "6 God." However, his explosion in mainstream hip-hop is no coincidence — to his credit, Drake has found a beautiful way to capitalize wearing his heart on his sleeve. 
From the 2011 "Take Care" featuring fellow hip-hop megastar Rihanna, to last year's "Know Yourself," Drake employs lyrics that are relatable yet powerful, candid yet well constructed, and he always accompanies them with a solid beat. There's no arguing that Drake is a critical success in the music industry and some of his best songs display his rap ability. 
Read more: Drake on Cake: This Instagram Account Puts Drake Lyrics on Cake and It's Perfect
We already know he's one of the coolest rappers in the game — his Instagram proves it. But just in case you needed any more proof that Drake's success can be attributed to talent, look to the many powerful responses he receives from fans, his consistently acclaimed releases by notable publications and these songs below, arguably some of the best of his career:
"Cameras / Good Ones Go"
"No Tellin'"
"Over" 
"Star67"
"Find Your Love"
"Jungle"
"Worst Behavior"
"Now & Forever"
"Energy"
"You & The 6"
"Marvin's Room"
"Own It" 
"Over My Dead Body"
"305 To My City"
"Tuscan Leather"
"Look What You've Done"
"The Motion" Featuring Sampha 
"Up All Night" Featuring Nicki Minaj
"Fear"
"6PM In New York"