Brie Larson Hugged Each Sexual Assault Survivor After Lady Gaga's Oscars Performance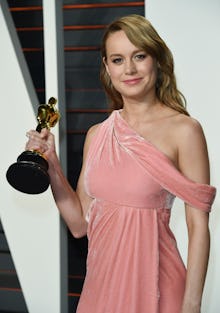 In the minutes before she capped her golden night at Sunday's 88th Academy Awards with the Oscar for best actress in a leading role, Brie Larson made an emotional gesture of support to victims of sexual assault.
The 26-year-old actress, who was nominated for her portrayal in Room of a woman held prisoner for years by a sexual predator, personally hugged survivors who had been invited to appear on stage during Lady Gaga's performance of "'Til It Happens to You."
Read more: Lady Gaga Invited Sexual Assault Survivors Onstage for Her Oscars Performance
It was a big night for sexual assault awareness all around at Hollywood's Dolby Theatre. Vice President Joe Biden also attacked the issue head-on while introducing Lady Gaga.
"Too many women and men, on and off college campuses, are still victims of sexual abuse," said Biden. " We must and we can change the culture. So that no abused woman or man ... ever feel they ever have to ask themselves 'what did i do?' They did nothing wrong."
Gaga's performance brought the house down, eliciting a standing ovation and tears from many audience members, Larson among them. The movie Spotlight, which centered around the journalists who uncovered the Catholic Church's institutionalized sexual abuse of children, received the award for best picture.