Why Did 'Mad Max: Fury Road' Win So Many Oscars? Because It Was Actually Inclusive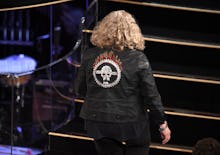 Chris Pizzello/AP
What a lovely day. In the midst of several headlines coming out of the 2016 Academy Awards, much attention focused on the success of post-apocalyptic action film Mad Max: Fury Road. Director George Miller's blockbuster took home the most Oscars of any film of the evening with six wins in technical categories, racking up the highest total for a non-best picture or best director since Star Wars: A New Hope. It was still a blowout for a movie that doesn't fit the traditional Oscars mold by any stretch of the imagination.
Fury Road essentially boils down to an extended car chase across a desert wasteland: the embodiment of a summer blockbuster with high-octane explosions and imaginative sequences. Yet Fury Road's claim to Oscar fame can be attributed to another important element from every facet of director George Miller's production: inclusion.
Read more: Why 'Mad Max: Fury Road' Should Have Won Best Picture at the Oscars
Within Fury Road's six categorical wins, five women received Oscars (though more than one person accepted an Oscar in four of the six Oscar wins). Costume designer Jenny Beavan and editor Margaret Sixel each received individual recognition. Sixel is Miller's wife, and the director implored his wife to edit the film — even though she wasn't previously known for editing action movies.
"Why do you want me to do an action film?" Sixel asked her husband, according to the Huffington Post.
"Because if a guy did it, it would look like every other action movie," Miller replied.
This was demonstrated on screen in Fury Road, which framed Charlize Theron's Imperator Furiosa as the star — much more than the titular Max (Tom Hardy). Furiosa is a badass truck-driving warrior whose mission is to free women from the grasp of the patriarchal cult leader, Immortan Joe. The film's focus on powerful female characters who refuse to be labeled as property is Fury Road's most resonant theme.
To help capture this, Miller hired The Vagina Monologues author Eve Ensler as a set consultant. "All the women felt full in terms of their backstory," Ensler said in an interview with Time. "Even something subtle like their clothes in the film: they're stripped down and vulnerable and objectified in the beginning. By the end, they have their clothes on. They've taken their bodies back and themselves back in some essential way."
These Oscar wins serve as an important reminder of Miller's emphasis on telling important stories from a feminist perspective not just on screen, but also behind the scenes.
Fury Road easily passes the Bechdel test, but goes even further than just having women talk to each other about something that isn't a man. Women aren't just the focal point of Fury Road — they're seen as the means to escape the post-apocalyptic societies that oppress people, regardless of gender. Thus, it hints that perhaps the world displayed in Fury Road fell apart because of the tyranny of men like Immortan Joe.
"Fury Road argues that freeing women from the societal chains that hold them back will create a world that is more fair and just," Caroline Siede wrote for the A.V. Club. "In other words: There's no need to fear a feminist revolution."
This is not to suggest that Fury Road's only merits are its impressive feminist undertones. Similar praise must be handed down to Miller for his use of practical effects in the film. Through the madness of Fury Road, Miller's careful direction never falters. Moreover, the practical stunt work in Fury Road is rooted in a sense of realism, which is made even more apparent in light of raw footage from the film's production — which is wholly impressive in its own right.
The dreaded genre bias that the academy typically exhibits was still in the cards this year, but the heaps of praise for a woman-centric action movie are a potent salve. Each of Fury Road's six awards is a small step to seemingly bigger changes for the academy, which hopes to diversify its membership by a large margin by 2020.
This year's Oscars felt, at times, like a chaotic political minefield. Ironically — or perhaps appropriately — the best film to hint that the academy is pulling toward a more inclusive membership is mired in chaos and destruction.