New Frank Ocean Music Was Just Leaked Online and His Fans Are Freaking Out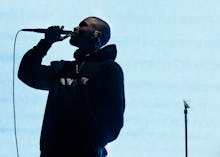 Andrew Chin/Getty Images
After Frank Ocean made a brief appearance at Kanye West's Yeezy Season 3 event at Madison Square Garden in February, his fans wondered when he would be releasing his long-awaited studio album. 
Now, an anonymous user has given us proof that Ocean is at least in the studio. 
Read more: Frank Ocean Came Out of Hiding for Yeezy Season 3 and the Internet Went Nuts
Source: Soundcloud
The brief snippet appears to have been recorded by someone in the studio, as the audio is muffled. But fans still can't wait to hear any new Ocean music, even if it is an unclear, indistinct clip.
Ocean, 28, made a guest appearance on Yeezy's newest album, The Life of Pablo, for the outro on "Wolves." Ocean's lyrics are darker than what we're used to: "The rings all ring out/ Burn out, cave in/ Blackened to dark out/ I'm mixed now, fleshed out/ There's light with no heat /We cooled out, it's cool out/ Life is precious/ We found out, we found out/ We found out."