Kesha Update: Singer Thanks Lady Gaga for Her Moving Oscars Performance on Sexual Assault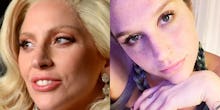 Mic/AP/Instagram
Just before taking the stage at the 88th Academy Awards in California on Sunday night, Lady Gaga tweeted to fellow superstar Kesha that she'd be thinking of her during the performance — and she certainly delivered. Kesha later thanked Mother Monster as well as Vice President Joe Biden for the powerful performance of "Til It Happens to You," Gaga's heartfelt ode to sexual assault survivors. 
"Thank u Lady Gaga and [Joe Biden] for bringing attention to sexual assault at the Oscars. It hit very close to my heart for obvious reasons. #ItsOnUs," Kesha captioned an Instagram selfie Sunday night, showing the artist in a much different light than recently — wearing very little makeup, with her hair back and in braids, showing the camera a fresh smile despite her surrounding controversy.
Read more: Lady Gaga Might Not Have Won The Oscar, But She Won The Night
Kesha has been fighting her music label Sony in a publicly watched court battle after alleging Lukasz "Dr. Luke" Gottwald, one of the label's major producers, has assaulted and abused her for years on end. At Sunday night's Oscars, Lady Gaga invited dozens of men and women on stage, all of whom are the survivors of sexual assault. 
Gaga herself is a survivor. The singer told Howard Stern in 2014 she was 19 when she was attacked, right around when she was making her start in the music industry. "I'll be damned if somebody's going to say that every creatively intelligent thing I've ever done is all boiled down to one dickhead that did that to me," Gaga told Stern, as Mic previously reported. 
She's not the only household name supporting Kesha, however. Adele took a moment at the 2016 Brit Awards to stand with the embattled performer, and scores of other musicians have voiced their support, including Lorde, Ariana Grande, Kelly Clarkson, Halsey, Lily Allen, JoJo and Sara Bareilles, among others.