Sam Smith Weight Loss: Before and After Photos and What Singer Says About Transformation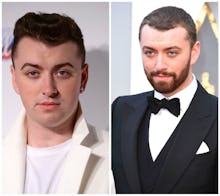 Mic/Steve Grantiz/WireImage/Karwei Tang
When British singer Sam Smith won the Oscar on Sunday for best original song for "Writing's on the Wall," from the 2015 James Bond film Spectre, fans were quick to point out his significant weight loss. 
During the red carpet coverage, Smith told reporters how he shed the weight. "I've just stopped eating like a horse," he told CNN. "I just stopped eating as much basically and just like being sensible and working out." 
Read more: Watch Sam Smith Sing "Writing's on the Wall" at the 2016 Academy Awards
But Smith also combined working out with a low-carb diet.
Smith revealed he lost 50 pounds while on a paleo, low-carb diet and in March, Smith announced he lost 14 pounds in 14 days. "I know this is very preachy, but if you can, try to find a way to be healthy. It will make you so much happier," Smith wrote on Instagram, the Examiner reported.
Smith has attributed his weight loss to British nutritionist and author of Eat. Nourish. Glow, Amelia Freer, who champions a "gluten-free Paleo-style diet." This style of diet encourages the consumption of organic eggs, chicken, vegetables and other proteins, while avoiding alcohol, Celebrity Health and Fitness reported. 
"Amelia Freer has helped me lose over a stone in two weeks and has completely transformed my relationship with food," Smith wrote on Instagram. "Everyone go check out her incredible book, and start to live healthy. It's not even about weight loss, it's about feeling happy in yourself."