Was Donald Trump's Father in the KKK? GOP Candidate Denies Fred Trump's New York Arrest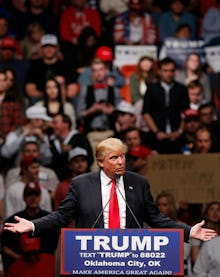 Sue Ogrocki/AP
GOP frontrunner Donald Trump raised eyebrows yet again when he refused to disavow Ku Klux Klan grand wizard David Duke's endorsement on CNN's State of the Union on Sunday. The real estate billionaire shrugged off having any prior knowledge of the KKK and their message, saying he couldn't disavow Duke's statement as he simply knows "nothing about white supremacists." Trump should be rather knowledgeable about the white supremacist organization however, as he's had a tricky past with the KKK before, beginning with his father, Fred Trump.
Trump's father was arrested in 1927 after a brawl broke out between KKK members and sympathizers of the Italian fascist movement in Queens, New York on Memorial Day, 1927. The Washington Post reported that 1,000 Klan members dressed in white robes marched through the city neighborhood, and seven men were arrested after the public rally turned violent — Fred Trump, who lived in Jamaica, Queens at the time, was one of these men. 
Read more: John Oliver Finally Took Down Donald Trump, Uncovered the Trumps' Dirty Little Secret
Of course, Donald Trump thinks none of this happened, and wants people to know that — he denied it to the Daily Mail, saying, "It's a completely false, ridiculous story. He was never there! It never happened. Never took place."
Similarly, Trump said this week he has no idea who David Duke is nor what atrocities the Klan is responsible for, but he lambasted the Reform Party in 2000 when he refused to run for president under its platform as it "now includes a Klansman, Mr. Duke, a neo-Nazi, Mr. Buchanan, and a communist, Ms. Fulani," he wrote at the time, according to Washington Post. "This is not company I wish to keep."
Donald Trump has since disavowed the group on Twitter after receiving extensive backlash online for not disassociating from the KKK, including some members of the conservative GOP. He clarified why he wouldn't initially steer as far away from the organization as possible (blaming it on a bad earpiece) however, he did not (nor will he, likely ever) admit his father was ever associated with the Klan.
It remains unclear whether this will be the straw that breaks the camel's back on Super Tuesday.